---
There is a growing portfolio of EU Horizon 2020 (H2020) projects that focus on Nature-based Solutions related to: sustainable urban development and social cohesion, water and climate resilience, Disaster Risk Reduction.  In order to ensure the EU added value and policy relevance of these efforts, as well as to maximise social, ecological and innovation impact the projects are clustered topically.
To this end, Network Nature coordinates the H2020 Nature-Based Solutions Task Forces that strengthen networking, knowledge sharing, and collaboration for synergies between projects. In doing so, it aims to increase the projects' impact on mainstreaming nature-based solutions, while saving resources around common areas of work. The goal of the Task Forces is increase awareness of the multiple benefits of nature-based solutions, create a strong evidence base for nature-based solutions on an EU level and an increase in partnerships for upscaling nature-based solutions. There are currently six Task Forces, consisting of H2020 project experts in each topical field:
TF1: Data Management and EU Nature-based Solutions Knowledge Repository - Defines and implements an effective approach to share, search and reuse data and knowledge related to nature-based solutions.
TF2: Nature-based Solutions Impact Evaluation Framework - Enables all nature-based solutions projects funded under Horizon 2020 to collaborate on demonstrating their multiple benefits.
TF3: Governance, Business Models and Financial Mechanisms - Supports the development of successful business, governance models and financial mechanisms to advance the uptake and upscaling of nature-based solutions.
TF4: Nature-based Solutions Communicators - Synergizes communication approaches among projects to increase visibility and dissemination channels of project work and nature-based solutions in general
TF5: Nature-based Solutions to Address Hydro-meteorological Risks
TF6: Co-creation and Governance for Nature-based Solutions - Engages citizens and stakeholders in assessing problems and issues, designing nature-based solutions, implementing them and monitoring their impact and aims to improve and promote co-creation, including in spatial planning, for inclusive nature-based regeneration. 
For more information on the Nature-based Solutions  Task Forces - contact us at hello@networknature.eu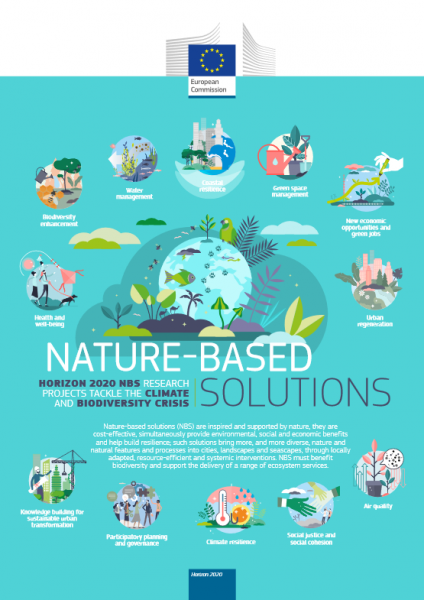 European Commission infographic: Nature-based solutions projects
Read more about the European Commission's work on nature-based solutions and the Task Forces here.