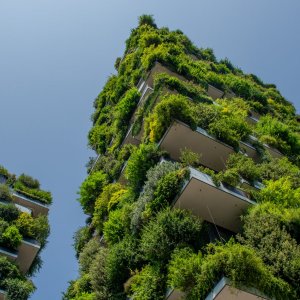 Nature-based solutions are creating quite a buzz as the world takes on biodiversity loss. But NBS alone are no panacea. Here are a few things we need to take on board.
Biodiversity is at the top of the political agenda - and not only in Europe. While there is good news in the recent release of the EU Biodiversity Strategy for 2030, itself a pillar of the European Green Deal, there has also been much excitement about an inclusive and participatory Global Biodiversity Framework in the run up to COP15.
Nature-based solutions, with their multi-pronged approach, are heralded as a promising, cost-effective measure to bend the curve on biodiversity loss; next to multiple other benefits such as strengthening resilience, social cohesion, public health, climate mitigation and adaptation. Following the EU's official definition of NBS, they "must benefit biodiversity and support the delivery of a range of ecosystem services".
But nature-based solutions are not a panacea. In fact, we need to be clear on how we use them. Not every NBS enhances biodiversity, but constitutes a trade-off between the different functions it can realistically deliver. For instance, an intensive green roof supports water retention and can possibly also capture carbon and be used for recreation purposes. But it does not enhance biodiversity. In fact, whether an NBS supports local biodiversity depends on its (landscape) design and management practices.
But what about cities? How can cities ensure biodiversity lies at the heart of their NBS? And what are the must-have characteristics of an NBS rich in biodiversity? In reality, there are a few simple principles to consider for restoring and creating new biodiversity-friendly urban ecosystems with NBS:
"Ecological diversity" is a key element to search for when identifying existing and potential high biodiversity habitats in urban areas. Species, such as pollinators or birds, thrive in heterogeneous landscapes with patchworks of different habitats assembled; such as grass lands, bare areas, diverse ground conditions and different plant communities. This could also mean: a so-called "Open Mosaic Habitat" (see blogs by Connop & Nash). Ecological diversity also strengthens resilience, since a diversity of species and different functions ensures that some of them remain functional – to continue delivering important ecosystem services after a shock, such as extreme weather events.
"Connectivity" is another element to consider for attracting species. From an ecosystem perspective, connectivity of landscape patches (ecological corridors) is crucial for maintaining ecological diversity. Thus, preserving or constructing well connected habitat patches – and linking green (land) and blue (water) infrastructure components to networks – are beneficial.
So what are the NBS that enhance biodiversity in line with these basic principles?
Biodiverse green roofs: Not all species necessarily require green physical connections. For birds and pollinators, stepping stones of suitable habitat over spatial scales can be sufficient to connect habitat patches. Biodiverse green roofs can fulfil this function, whilst delivering a variety of co-benefits such as water retention and delayed water run-off to drainage systems. Biodiverse green roofs are based on extensive green roof systems with shallow, low-nutrient substrates that require little or no maintenance and irrigation. At best, biodiverse green roofs replicate Open Mosaic Habitats found on wildlife-rich and low-nutrient sites such as brownfields. (For more info on this: A best practice guide for creating green roofs for invertebrates, Biodiverse design of urban green infrastructure, Mimicry of habitat mosaics)
Green-blue corridors with abundant vegetation play an important role in creating a healthy, ecological city. Through anticipatory land use, planning options for green corridors and new wildlife habitats can be identified, strategically linking existing spots of green infrastructure across the city. By ensuring habitat connectivity, this allows for the movement and mixing of species.
Road, railway and waterway verges can assume the function of ecologically important network elements and refuges in densely populated urban areas. Consider complementing green belts and green corridors when planning traffic verges, road side and railway verges, roundabouts, water ways and river banks.
Storm water management infrastructure for roads, drainage, housing and other developments is often managed by public bodies and is part of municipal services. When integrated with green infrastructure ('combining green with grey'), they can turn into biodiversity-rich habitats. Green walls, rain gardens and swales are some of the sustainable drainage components that can be designed and managed to support biodiversity. (More on this: Guidance on Sustainable Drainage Systems for Wildlife).
Curious about NBS for biodiversity? More information on design principles and management practices to turn urban spaces into biodiversity-rich habitats can be found in the recently published "Guide for pollinator-friendly cities: How can spatial planners and land-use managers create favourable urban environments for pollinators?"