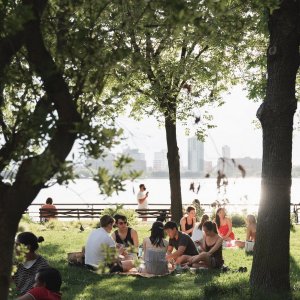 Human activities have already triggered a rise in the earth's surface temperatures. To reduce the damage from climate change, a transition to a low-carbon society is urgently needed. At the moment, environmental resources are distributed unevenly. As a result, wealthy regions benefit from better conditions than low-income areas that are more vulnerable to the impacts caused by warmer temperatures. The JUSTNature project, a four year and a half project that started in 2021, brings stakeholders together across Europe to discuss how to involve citizens in implementing green and sustainable spaces to achieve high air quality and low carbon neighbourhoods, as it is the right of every citizen.
JUSTNature's goals are brought to life in six City Practice Labs (CiPels) across Europe: Chania, Gzira, Leuven, Merano & Bolzano, Munich, and Szombathely. City Practice Labs (CiPels) constitute the backbone of the project's activities by delivering community-engaged, co-explored and co-decided innovation to implement Nature Based Solutions to tackle down the environmental challenges in all these cities. The project is using innovative approaches such as  3D visualisations to involve citizens in greening processes.
JUSTNature emphasises the necessity of bringing everyone's thoughts and actions together to create a new and sustainable future, beginning with our cities. Every citizen should have the right to access ecological space, regardless of their position in society. In this view, the EU officer supporting the project, Ugo Guarnacci, said: ''green areas should not be just for the rich, but for everyone". For more information see: https://justnatureproject.eu
This project has received funding from the European Union's Horizon 2020 Research and Innovation Programme under Grant Agreement No. 101003757.
Top photo: Mason Dahl, Unsplash