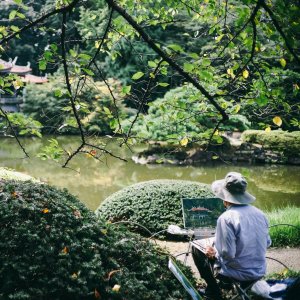 The concept of therapeutic or healing gardens is both modern and ancient. Ancient Egyptian, Persian and Greek gardens were all considered healing environments and all of them had well established guidelines in relation with the knowledge of that time and, most important, people were aware of the positive impact that gardens had over their mental and physical health, if planned correctly. Regardless of the time period or the landscape style, people did not neglect green spaces and gardens, each nation transposed through the natural landscape, beliefs, knowledge, passion for beauty and concern for maintaining a wellbeing of the body and soul, and even to this day we still follow basic guidelines that appeared in ancient times.
Healing garden is the general term for green spaces that help the process of healing a condition, whether it is mental, physical or emotional and the place that maintains the well-being and the connection between humans and nature. The rapid development of urban settlements, technology and unhealthy lifestyles lead to the need for sustainable planning with an emphasis on the integration of healing gardens and therapeutic green spaces in the urban environment. Previous studies and research show that the natural landscape and gardens designed with certain compositional, formal and environmental criteria can prevent and even help in the process of healing physical and mental disorders. Taking into account the current context of the pandemic that has disrupted everyday life and the wellbeing and affected the mental and even the physical health of people, action needs to take place in order to get to a new and better normal. In the present, major factors for the decreasing quality of life are mental fatigue, fear, stress, the lack of social interaction, and physical activities. Therapeutic gardens can help reduce stress and once the stress fades, the healing process can begin. So now more than ever we are aware of the importance of human connection with nature and how therapeutic gardens should be an integrated part of urban and landscape planning with the role of maintaining the mental and physical health, the wellbeing of individuals and communities as well as a healthy urban metabolism. According to Elisabeth Diehl (2013), healing gardens are divided into two major types - restorative gardens and enabling gardens. Restorative gardens emphasize healing just by spending time in that garden such as meditation gardens, sanctuary and sensory gardens. Enabling gardens empathize the healing through organized activities for specific health conditions like dementia and Alzheimer so these gardens are horticultural and demonstrative gardens. The general outlines that makes a garden therapeutic:
deep understanding of all the needs of those to whom the garden is addressing to;
must provide a sense of safety and security;
geographical context (the climate dictates the design principles);
the balance between common areas and private areas;
stimulating sense (through textures, colors, sounds, and scents)
Knowing these two distinctive types of therapeutic gardens, we need to integrate them into the urban tissue and adapt them in relation to the needs. Integrating restorative gardens within urban parks, public gardens, educational institutions, working environments, commercial spaces and integrating enabling gardens within hospitals, hospice, elderly care centers and treatment centers - creating coherent healing green spaces that have a positive impact on those who cross the garden. Therapeutic gardens represent an interdisciplinary concept that needs our attention in order to create a healthy urban environment. Urban and landscape planners, architects, and medical specialists need to work together in order to establish a template for therapeutic gardens that can also measure the impact and efficiency and can provide a better living space for individuals and communities.  A great example of an implemented therapeutic garden is Elizabeth and Nona Evans Restorative Garden in Cleveland, OHIO.
- Alexandra-Mara Nicolaescu, PhD Student, Urban and Landscape Planner, Ion Mincu University of Architecture and Urbansim, Bucharest, Romania.
Photo: Shinjuku Gyoen National Garden, Josh Wilburne, Unsplash