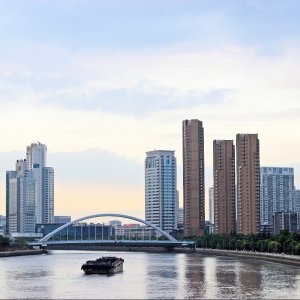 Nature-based solutions that have proved successful in cities can be readily replicated in others – even across the globe. November 2020 saw two major events with European funded nature-based solutions projects engaging Chinese partners.
The UrbanByNature programme, a ground-breaking initiative to empower local governments to build more resilient and sustainable cities through nature-based approaches, was launched in China, as the result of a multi-stakeholder cooperation between Chinese organizations and EU-funded projects. The Chinese capacity-building programme was kicked off in Chengdu at the 4th High-Level International Forum on Sustainable Urban Development organized by ICLEI – Local Governments for Sustainability. The launch event in China was attended by city representatives from Chengdu, Changchun, Shanghai Changning District, Kunming, Chongqing, Ningbo and Guangzhou, and by representatives of the Executive Agency for SMEs of the European Commission, the Delegation of the European Union to China and the Chinese Ministry of Ecology and Environment, among others.
The goal of the UrbanByNature programme in China is to introduce nature-based solutions as an approach to improve water quality, urban regeneration and climate resilience, and connect European and Chinese cities by sharing good practices and information on policy development. The local partners will be the China Center for Urban Development (CCUD) and the Universities of Xi'an Jiaotong, Peking and Tongji.
Shu Zhu, Regional Director at ICLEI East Asia, welcomed the collaboration: "The ancient Chinese theory that man is an integral part of nature holds more truth than ever amid a time when COVID-19 continues to surge across the world. As the share of the population residing in cities is increasing in all regions, there is an increasing need for urban decision-makers and citizens to adopt policies and practices to integrate nature into daily life; after all, nature may very well offer the key to address a myriad of challenges urbanization presents. The ICLEI East Asia Secretariat is excited to facilitate the knowledge and expertise change between China and Europe, through UrbanByNature, in mainstreaming nature-based solutions into urban development."
Another event in Ningbo saw proGIreg - productive Green Infrastructure for post-industrial urban regeneration - project kick-off co-design in its living lab in Moon Lake Park. The living lab is regenerating soil, creating local environmental compensation processes and introducing community-based urban farms and gardens in the parkland area. The co-design process entails involving the local stakeholders from nature-based solutions planning to implementation to ensure shared ownership and mutual benefits with locals. The kick-off event gathered representatives from The Forestry Bureau of Ningbo City, Ningbo Tianhe Aquatic Ecosystems Engineering Co. Ltd, Ningbo University, Ningbo Municipal Water Conservancy Bureau, Ningbo Municipal Comprehensive Administrative Law Enforcement Bureau, Ningbo Academy of Agricultural Sciences, and the Residents of Moon Lake Park Street to discuss the future of the Living Lab.  All parties enjoyed the productive discussion an agreed on multi-party cooperation for the governance of the park to ensure a thriving future for the parkland.
Replicating successful and established nature-based solutions globally is key in creating equitable sustainability transitions.  Read more about the pioneering UrbanByNature launch in China and more on proGireg co-design activities in Ningbo.