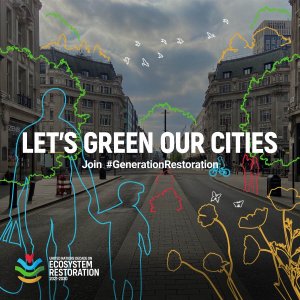 This article originally appeared on ICLEI Europe, republished with permission.
This World Environment Day (5 June) marks the official launch of the UN Decade on Ecosystem Restoration (2021-2030), a global movement initiated by the UN General Assembly to help halt and reverse the degradation of ecosystems worldwide. As an official Global Partner of the initiative, ICLEI is bringing the voices of leading mayors and cities to the global stage to share their successes, challenges and visions for ecosystem restoration, and provide actionable knowledge to make restoration more tangible to urban practitioners.
Although enthusiasm for restoration efforts exists, this is not necessarily accompanied by a deep and nuanced understanding of restoration, especially in the context of cities. Ecosystem restoration can encompass a wide continuum of activities. Essentially, it means "assisting the recovery of a degraded, damaged, or destroyed ecosystem in the direction of a historic reference state", according to the official definition of the Society for Ecological Restoration.
As cities have doubled in size over the past 20 years, the question of how ecosystem restoration can be understood in the urban context has been asked more and more frequently. Given that urban ecosystems are fundamentally different from their natural state due to the presence of pollutants, non-native species, built, grey infrastructure and the fragmentation of green areas, can cities still restore native ecosystems? Can tree planting initiatives and measures to interconnect existing patches of green spaces be considered ecosystem restoration? And how can this be done whilst high urban density and lack of space for green areas is a feature of cities to date?
What does ecological restoration mean for cities?
On 1 June, as part of the official launch programme of the UN Decade on Ecosystem Restoration, representatives from ICLEI Members Växjö (Sweden) and Tirana (Albania) shared their experiences with ecosystem restoration and tackled some of these questions at the event "Restoring urban spaces, designing future-proof cities", organised by ICLEI's Cities Biodiversity Center.
Cheryl Jones Fur, Deputy Lord Mayor of Växjö and member of the ICLEI Regional Executive Committee for Europe, highlighted the potential of urban ecosystem regeneration projects to reverse biodiversity loss and ecosystem degradation. "Functioning ecosystems provide healthy environments for our citizens. As our city grows, it's important to maintain these green lungs for our citizens and for the protection of fauna and flora", she said.
Växjö has recently conducted an extensive restoration programme to improve the water quality of five centrally-located lakes, creating rainwater lagoons to protect against floods, establishing a better ecological balance between species, and building a network of walking and cycling trails around them. Växjö is also pushing forward efforts to re-green the space under a power line corridor, creating a park in an area previously covered with thrash and oil drums.
As these measures show in practice, urban ecosystems can be rehabilitated to enhance ecosystem functions and biodiversity, remove pollutants and garbage, clean up waterways, plant trees, create wildlife habitats in parks, schools and public spaces, and to mitigate and adapt to the effects of climate change. The International Principles and Standards for the Practice of Ecological Restoration make clear that ecological restoration is not necessarily based on the attempt to return to some previous state, but rather on "increasing potential for native species and communities to recover and continue to reassemble, adapt, and evolve".
Public participation and engagement in ecosystem restoration
Offering meaningful opportunities for the public to engage in ongoing projects and experience nature are also among the main success factors of restoration activities, stressed Anuela Ristani, Deputy Mayor for International Affairs of Tirana. In Tirana's experience, enhancing nature-connectedness among residents in order to generate enthusiasm for restoration actions and increase environmental stewardship is key. Simple actions such as encouraging residents to explore natural paths, promoting new natural destinations and visits to natural heritage areas can prove very effective.
"Just by taking these actions, the sense of protection, ownership, and the determination not to destroy nature have grown massively in the community. Things such as removing a car roundabout and transforming it into an urban park can give people the experience of what it means to be in nature, and for that you don't need a lot of space", said Ristani.
Working along similar lines, projects such as REGREEN, CLEVER Cities, proGIreg, Connecting Nature, CONEXUS and GoGreenRoutes are all exploring the nexus between urban greening and public participation measures to support cities in the implementation of nature-based solutions that restore ecosystems, while using co-creation methods to engage residents in shaping the green spaces of their neighbourhoods.
Follow a semester of material to learn more
Throughout its next semester, NetworkNature – the EU hub for the nature-based solution community – will feature concrete case studies, opinion pieces and information from a wide range of stakeholders on ecosystem restoration, as part of the theme "Ecosystem restoration – a path for biodiversity and sustainability".
"It is imperative to create awareness and a broad understanding that human health is inextricably linked with healthy and functioning ecosystems that can continuously provide us with the services that our society and economy depend on. NetworkNature's running semester theme has put this connection into the spotlight", said Bettina Wilk, NetworkNature Coordinator and Senior Officer for Nature-based Solutions, Green Infrastructure & Biodiversity at ICLEI Europe.
 
For a European perspective on urban ecosystem restoration, follow ICLEI Europe and NetworkNature on Twitter.
For more information on the role of global cities in protecting and restoring ecosystems, follow ICLEI CBC and the hashtag #GenerationRestoration on social media.