Event posted by

Coline Laurent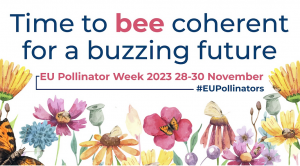 Tuesday, 28 November 2023 - 0:00

to

Thursday, 30 November 2023 - 23:45 (Europe/Brussels)
Brussels, European Parliament (hybrid)
Since 2012, the European Pollinator Week has been held annually at the European Parliament. This event provides a vital platform for stakeholders to convene and share perspectives. Representatives from European and national institutions dedicated to the pollinator and beekeeping sectors, farmers, NGOs, and scientists from all disciplines related to bees, beekeeping and biodiversity come together. Their collective aim is to discuss the pressing challenges facing these sectors and to propose recommendations for policymakers. The European Pollinator Week is also dedicated to raising awareness, ensuring that pollinator health and the beekeeping sector remain prominent topics on the European agenda.
In this eleventh edition of the European Pollinator Week, we intend to highlight the importance of having coherent policies to ensure a buzzing European future that ensures our food security and biodiversity. That is why key regulations in the process of decision making have been included. Regulations characterised by a great component of controversy, as is often the case with issues related to bees and pollinators. The field situation is deeply concerning, with continued decline in pollinators, their habitat and resources, which translates into lack of crop pollination, further habitat impoverishment and critical economic survival of those living from pollinators, such as beekeepers. Bees offer Europeans invaluable services, including substantial contributions to food security both in terms of quantity and quality. A pressing question arises: What are Europeans doing in return for bees?
Our international conference will pinpoint the gaps and overlooked elements in European policies and strategies aimed at safeguarding (or threatening) bees and pollinators. Ultimately, this also reflects on our quality of life and health. The discussions will also encompass specific issues like the use of pesticides and the push for New Genetic Techniques as their alternatives, instead of agro-ecology, the Nature Restoration Law, and the vital topics of labelling and traceability.
The event will be hosted by MEP Mr. Juozas Olekas, Chair of the "Delegation for relations with Belarus" and member of the Committee on Agriculture and Rural Development, in collaboration with Members of European Parliament (MEPs) Martin Hojsik, Benoit Biteau, Mª Eugenia Rodríguez Palop, Cesar Luena, and Hannes Heide.