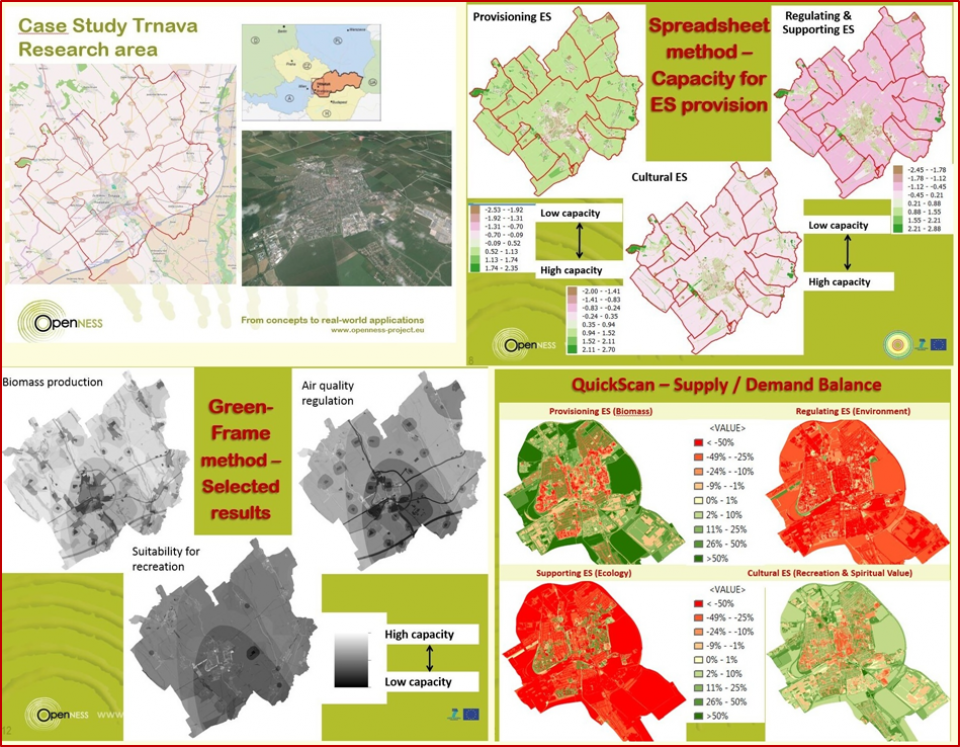 Area characterisation:
Trnava is an administrative, economic, cultural and science-research centre in Western Slovakia. It is one of the oldest and most beautiful mediaeval towns in Slovakia. Nowadays Trnava belongs to the most rapidly developing cities in Slovakia with strong industrial investments (e.g. Peugeot-Citroën, Samsung, Johns Manville). Urban growth causes strong environmental problems in the area - air and water pollution, agricultural land take and low ecological stability of landscapes. The adjacent area to the city of Trnava represents intensively managed large-scale farmland. The study area consists of the city and its buffer area (16 settlements, 324.8 km2, 92,730 inhabitants).
Objective:
Develop and test usable methods for valuation selected ecosystem services at the local and regional level, and promote their incorporation into the spatial planning process and in the broader decision making process in Slovakia.
Potential impacts/benefits:
Review of key national regulatory frameworks, planning and strategic documents in the research area
Test of several approaches of ES assessment, development of new methods contributing to spatial and urban planning
Regularly organized meetings, active work with stakeholders, raised public awareness
Positive feedback from the potential users of new methods.
Policy recommendations.
Results and proposed actions should be implemented by local authorities, regional authority, partly also by Ministry of Environment.
Transferability of the result:
Results of case study could be used as methodical background for ES assessment in the similar types of landscape:
small and medium-sized cities
sub-urban areas with dominant agricultural use
Lessons learned:
The simple valuation methods are more suitable for practical implementation, comprehensive methods are more reliable~Stakeholder involvement is a powerful tool, but it has several constrains~Usefulness of "tiered" approach: national ES assessment - regional priorities - local planning process.~