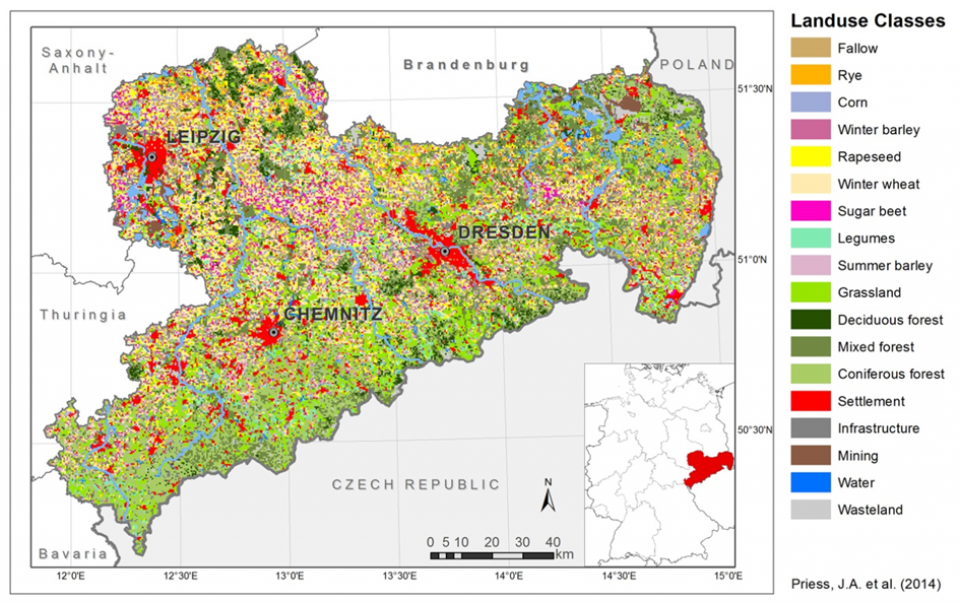 Area characterisation:
The federal state of Saxony is located in the Central Eastern part of Germany. Land cover is dominated by agricultural land and production focuses on cereals, rape seed and maize, the latter two increasing in recent years. Saxony comprises fertile lowlands and sub-mountainous regions towards the east and south-west.
Objective:
Assessing how current and expected future land use changes affect the synergies or trade-offs between bioenergy provision and other ecosystem services. This will assist Germany in its aim to increase renewable energy provision up to 35% in 2020.
Potential impacts/benefits:
Better understanding of trade-offs and synergies between bioenergy provision and other ecosystem services
Recommendations for avoiding trade-offs while realising synergies between ecosystem services
Future research questions co-produced with scientists and practitioners
Transferability of the result:
Results will be transferable to areas, which expect similar land use changes due to bioenergy production. However, since soil or climatic conditions and societal and institutional settings are expected to influence the specific results, a 1:1 transfer of outcomes will not be possible.
Lessons learned:
Production of energy crops was expected to impact negatively on landscape aesthetics as is the case for other regions in Germany. However, respective data on preferences for ecosystem services, collected in our case study, did not confirm this assumption. The main lesson learned is that assumptions should not be made about preferences for particular ecosystem services and instead work should be focused on assessing preferences directly, for example using MapNat: Ecosystem Service Mapping Application (App for Android based phones and tablets). More information can be found here: http://www.ufz.de/index.php?en=33303~
Key Performance Indicator: