Event posted by

Hans Peter Ellmer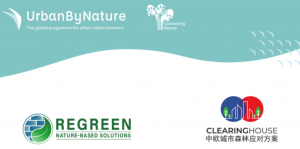 Tuesday, 21 June 2022 -

9:30

to

11:00 (Europe/Brussels)

(Europe/Brussels)
The first UrbanByNature (UbN) webinar co-organised by REGREEN and CLEARING HOUSE projects will provide insights into the ecosystem restoration and the ecosystem services of forests and street trees in urban areas of China.
Speakers will share their experience in working collectively on initiatives that highlight benefits of forests and street trees in physical and mental health. They will highlight the restorative and cooling capacity of the urban forests and trees and will showcase initiatives applied in practice to improve urban living and address urban development challenges with urban nature.
More informations & agenda:
https://urbanbynature.eu/events/webinar-ecosystem-restoration-and-benefi...