Event posted by

Coline Laurent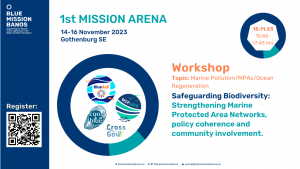 Wednesday, 15 November 2023 -

15:45

to

17:45 (Europe/Brussels)

(Europe/Brussels)
In pursuit of the EU Mission Restore our Ocean & Waters objectives, Blue Mission BANOS' is the lighthouse in the Baltic and North Sea that inspires, engages and supports stakeholders across the region to reach a carbon-neutral & circular blue economy.
With this objective in mind, BlueMissionBANOS is organizing the 1st Mission Arena, an event to take place on 14-16 November in Gothenburg, Sweden, that through interactive sessions, workshops, pitching events, demonstrations and networking sessions, will draw a roadmap for the region from the outcomes of the three-days-event.
As part of the event, the workshop "Safeguarding Biodiversity: Strengthening Marine Protected Area Networks, Policy Coherence and community involvement" will take place on the second day with key speakers from the WWF Baltic, the Baltic Marine Environment Protection Commission(HELCOM), the Swedish Agency for Marine and Water Management (SwaM), and the University of Soutjern Denmark (SDU). 
The workshop will feature the insights of EU-funded MSP4BIO Project on the integration of Marine Protected Areas and marine spatial planning. 
The Key Discussion Topics will be:
Designation of strictly protected areas
Creation of MPA networks
Integration of MPAs & MSP (Marine Spatial Planning)
Active community involvement
 During this workshop, actionable recommendations and strategies will be developed towards a sustainable marine future, making a real impact in the Baltic and North Sea region by 2030.