Event posted by

Elena Ricci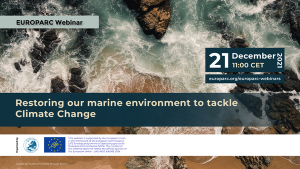 Tuesday, 21 December 2021 - 11:00 (Europe/Brussels)
Our oceans and seas play an indispensable role in climate change mitigation and adaptation. However, deterioration of the marine and coastal environment is reducing its ability to do so.
Implementing measures that restore the natural capacity of the environment to mitigate and adapt to climate change can help "turn the tide". Restoring our marine environment and improving its biodiversity is imperative if we want to maintain all the ecosystem services it has to offer.
In this webinar, we will look at nature restoration projects in two Mediterranean Marine Protected Areas. We will discover how different environmental factors are inventoried and how natural conditions are restored across the Mediterranean. The webinar will address the challenges and solutions of using nature restoration for climate change mitigation and adaptation.