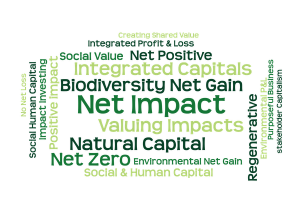 Tuesday, 14 June 2022 -

15:00

to

16:15 (Europe/Brussels)

(Europe/Brussels)
This year the topic will be on 'Impact valuation and setting targets for Net Positive', as usual with a core focus on a business and finance context.  We will be taking a broad view as to what Net Positive covers - including all environmental, social and economic issues. Topics to be discussed include:
What is 'Net Positive' for business and why is it needed?

Can companies and investment portfolios be 'Net Positive'?

How can companies and financial institutions demonstrate and prove attaining such a goal?

What is the role of target setting, impact measurement and valuation, and offsetting in achieving it?
The speakers are:
Paul Polman - Business leader, campaigner, former CEO Unilever, Co-Author of "Net Positive: how courageous companies thrive by giving more than they take" - covering Net Positive in general.

Mark Hodge – Senior Associate, Shift, business and human rights expert – specialising in metrics and leader of the Valuing Respect project - covering social Net Positive.

Renata Pollini – Head of Nature, Holcim. Leader of Holcim's Nature Positive strategy covering nature positive (including biodiversity and water).

Lisa Beauvilain - Head of Sustainability & ESG at IMPAX Asset Management - covering climate and portfolio Net Positive.

James Spurgeon – Director, Sustain Value, Natural & multi-capitals and impact valuation expert - introducing the topic.
With the event being introduced by Phil Clark, Director, Consciam.
The webinar is being hosted by Sustain Value and Consciam. By registering for this event you agree to be added to the our mailing lists and receive infrequent newsletters and company updates. You can unsubscribe at any time. Your information will not be shared with other organisations.