Event posted by

Isobel Fletcher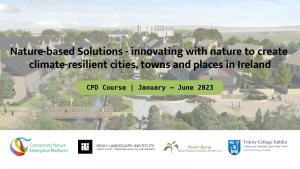 Thursday, 26 January 2023 - 0:00

to

Thursday, 22 June 2023 - 0:00 (Europe/Brussels)
Nature-based Solutions - CPD Course
As practitioners, we have a leading role working with  towns and cities to design, implement and manage nature-based solutions and innovations, building climate resilience, protecting biodiversity and creating liveable towns and cities.
This CPD Programme accredited by the Irish Landscape Institute and  delivered with the Connecting Nature Enterprise Platform has been  designed specifically for urban landscape practitioners: landscape architects, artists, architects, urban planners, ecologists and engineers.  Professionals working with nature-based solutions who wish to broaden their knowledge base around the design, implementation and stewardship of nature-based solutions which places co-production at the heart of each stage. During the course, you will dive into the complexity of co-producing robust, measurable nature-based solutions, drawing on the learning outcomes and resources of the Connecting Nature Project, a Horizon 2020 innovation action that co-created nature-based solutions at scale across 10 European cities. Professor Marcus Collier, Trinity College Dublin is the external advisor to this process. 
Beginning in January 2023, the course will run every 4th Thursday through to June.  Modules will be delivered on line and in person.
For full details and to register visit : https://bit.ly/3Fom966