Event posted by

Nadine Moreby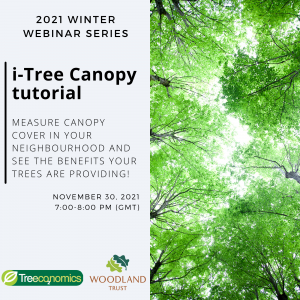 Tuesday, 30 November 2021 -

20:00

to

21:00 (Europe/Brussels)

(Europe/Brussels)
Join our interactive webinar, and learn how to measure tree canopy in your neighbourhood!
Danielle Hill, Senior Consultant at Treeconomics, will be joined by Adam Cormack of The Woodland Trust, for an introduction to the i-Tree Canopy tool.  This tool, originally for the US, has now been adapted for use in the UK by Treeconomics, in partnership with the US i-Tree team and The Woodland Trust.  We are excited to show you what it is all about, how to use it, and why you should have a go!
Kieron Doick of Forest Research will also be showcasing the UK-wide canopy map, and how to add your canopy results.
After the workshop, you will have all of the information you will need to measure the canopy cover of your own neighbourhood, and to work out its carbon sequestration, avoided run-off, and pollution removal values.  This is a tool for anyone interested in measuring the tree canopy where they live, work, and breathe!
Registration is free