Event posted by

Adriana Duarte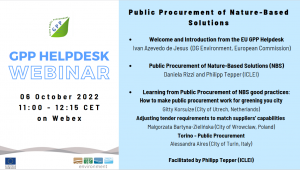 Thursday, 6 October 2022 -

11:00

to

12:15 (Europe/Brussels)

(Europe/Brussels)
NetworkNature and the GPP Helpdesk are teaming up to create a unique event, the third European Commission's Helpdesk service on GPP webinar of 2022, which will address the public procurement of Nature-Based Solutions. The webinar aims to provide public procurers with a better understanding of the topic and inspire them to take the first step towards this journey.
Take a sneak peak of the agenda below:
● Welcome and Introduction from the EU GPP Helpdesk
Ivan Azevedo de Jesus, DG Environment, European Commission
● Public Procurement of Nature-Based Solutions (NBS)
Daniela Rizzi and Philipp Tepper, ICLEI
● Learning from Public Procurement of NBS good practices:
⮚ How to make public procurement work for greening your city
Gitty Korsuize, City of Utrecht, Netherlands
⮚ Adjusting tender requirements to match suppliers' capabilities
Malgorzata Bartyna-Zielińska, Wroclaw, Poland
⮚ Torino - Public Procurement in Italy
Alessandra Aires, Turin, Italy
The workshop will be facilitated by Philipp Tepper, ICLEI – Local Governments for Sustainability. Explore the full programme and be sure to register here.