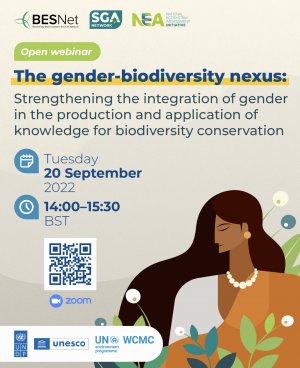 Tuesday, 20 September 2022 -

15:00

to

16:30 (Europe/Brussels)

(Europe/Brussels)
Gender equality and women's empowerment are critical to achieving biodiversity objectives. Examples show that gender-responsive environmental policy and planning can deliver multiple benefits for women and biodiversity.
The identification of suitable policies and plans requires the generation of up-to-date and robust knowledge on biodiversity and ecosystem services (BES). Women and girls have a high potential to lead knowledge production and implementation of the solutions on the ground. For instance, women from indigenous and local communities hold a distinctive set of capacities and practices thanks to their special relationship with nature and their community. This position makes them unique knowledge holders and transformative catalysts, who are much needed in tackling many global challenges, including biodiversity loss.
However, prevailing systemic barriers often make women's participation in formal spaces difficult, including policy dialogue. Consequently, the unique and complementary knowledge of women is missing from the available evidence base, limiting opportunities for identifying transformative solutions. At the same time, the interests, needs and priorities of women continue to be neglected in policies and plans, hampering progress towards gender equality and sustainable development.
Adequate representation of women in knowledge production, decision-making and policy planning is vital. More inclusive implementation of conservation efforts and greater efforts to leverage the distinctive knowledge that women, girls and people of all genders have about the planet and its ecosystems can put us on the right path to a more sustainable trajectory. Recognizing that all genders require the means to live in harmony with nature, mainstreaming gender considerations into the process of knowledge production and application can pave the way for transformative approaches to sustainable development.
The Biodiversity and Ecosystem Service Network (BES-Net) aims to enhance biodiversity action at the national and regional levels by harnessing the assessments and guides produced by the Intergovernmental Science-Policy Platform on Biodiversity and Ecosystem Services (IPBES) into concrete action on the ground. To this end, BES-Net builds capacity and promotes dialogue within and among scientists, policymakers and practitioners to jointly design transformative solutions and build knowledge and evidence for strategic action, to ensure healthy, thriving and resilient ecosystems. BES-Net is implemented jointly by the United Nations Development Programme (UNDP), the UN Environment Programme World Conservation Monitoring Centre (UNEP-WCMC) and the United Nations Educational, Scientific and Cultural Organization (UNESCO) as a consortium, in close collaboration with the UNEP-WCMC-managed National Ecosystem Assessment (NEA) Initiative.
This event aims to raise the awareness of BES-Net's stakeholders on the critical importance of applying a gender lens in biodiversity conservation and share experiences of BES-Net's partner countries on mainstreaming gender considerations into their work at the science-policy-practice interface. The webinar will be hosted by BES-Net via the Sub-Global Assessment Network (SGAN) to reach a wide range of stakeholders and knowledge holders engaged in ecosystem assessments. The SGAN aims to build the capacity of its members, including practitioners, researchers and policymakers, to undertake and use ecosystem assessments.
The event will be delivered online through Zoom. It will be recorded and stored on the NEA Initiative website. Interpretation in Spanish, French and Russian will be provided.
Audience
Open to public audiences, including:
Members of SGAN
Countries undertaking activities under the BES Solution Fund
Country partners to the NEA Initiative
Countries that participated/will participate in the BES-Net Regional Trialogues in support of the uptake of the IPBES Assessments
Other partners under the BES-Net umbrella
Aim
To showcase the experience of BES-Net and its partners in mainstreaming gender into the process of generating and applying knowledge on BES and its benefits for people.
Objectives
Provide participants with an overview of the status of mainstreaming gender in the post-2020 Global Biodiversity Framework and a brief contextual outline of the gender-environment nexus, including the key challenges and opportunities for delivering multiple benefits.
Provide a platform for BES-Net partner countries to share their approaches and lessons learned on mainstreaming gender considerations into the process of BES knowledge generation and application.
Host a panel discussion with gender experts and BES practitioners on best practice approaches for gender-transformative knowledge generation.