Event posted by

Coline Laurent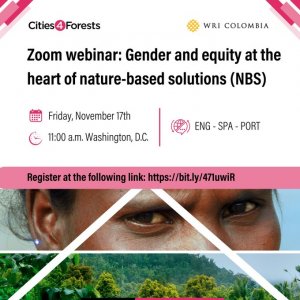 Friday, 17 November 2023 -

16:00

to

17:00 (Europe/Brussels)

(Europe/Brussels)
EN 
During this webinar, global alliance of cities for forests Cities4Forests will dive into how Nature-based Solutions can advance gender equity and take a look at projects that have done this successfully. The event will be in English, Spanish, and Portuguese.
This webinar is designed for individuals and institutions interested in understanding the importance of integrating a gender and social equity (GES) perspective in projects related to Nature-Based Solutions (NBS), as well as in the restoration and conservation of forest ecosystems. Through the analysis of experiences and successful cases in Mexico, Colombia and Brazil, a space for dialogue and participation will be opened for attendees to explore the challenges, benefits and opportunities involved in the inclusion of the GES perspective in the context of the role of women in conservation and restoration projects in the region.
ESP 
Este webinar está diseñado para personas e instituciones interesadas en comprender la importancia de integrar una perspectiva de género y equidad social (GES) en proyectos relacionados con Soluciones basadas en la Naturaleza (SBN), así como en la restauración y conservación de ecosistemas forestales. A través del análisis de experiencias y casos exitosos en México, Colombia y Brasil, se abrirá un espacio de diálogo y participación para los asistentes, con el objetivo de explorar los desafíos, beneficios y oportunidades que implica la inclusión de la perspectiva GES en el contexto del papel de las mujeres en proyectos de conservación y restauración en la región.
PT 
Este webinar foi criado para pessoas e instituições interessadas em entender a importância de integrar uma perspectiva de gênero e equidade social (GES) em projetos relacionados a Soluções Baseadas na Natureza (NBS), bem como na restauração e conservação de ecossistemas florestais. Por meio da análise de experiências e casos de sucesso no México, Colômbia e Brasil, será aberto um espaço de diálogo e participação para os participantes, com o objetivo de explorar os desafios, benefícios e oportunidades envolvidos na inclusão da perspectiva de GES no contexto do papel das mulheres em projetos de conservação e restauração na região.