Event posted by

Fabiano Lemes d...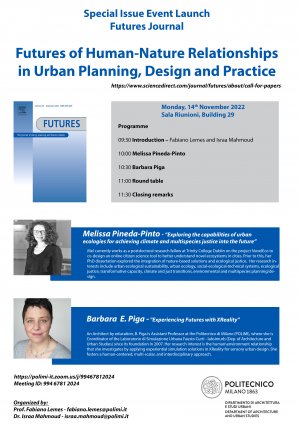 Monday, 14 November 2022 -

9:30

to

12:00 (Europe/Brussels)

(Europe/Brussels)
Special Issue – Event Launch – Futures Journal
https://www.sciencedirect.com/journal/futures/about/call-for-papers
This Special Issue of "Futures" focuses on the futures of the relationships between humans and nature in urban and environmental planning, design and practice. The climate crisis challenges the continuation of life on the planet as it is, of the existing and future ecosystems and poses the need for fundamental reconsiderations of possible, probable and preferable futures for human-nature relations.
It has been argued that solutions to many contemporary urban challenges can be found in nature. Nature-based solutions (NBS) have emerged to address the effects of climate change for both humans and non-humans and are at the forefront of the intersection between environmental sciences and planning. Yet, there is an open debate regarding the concept's positioning and effectiveness. New approaches have sought reconciliation of culture and nature, such as co-evolution, and between technology and nature, such as those based on virtual reality and artificial intelligence. Despite such advances, there is a lack of dialogue across the emerging field of nature-based solutions and that of futures studies.