Event posted by

Laurine Moncorps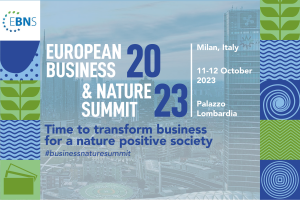 Wednesday, 11 October 2023 - 13:00

to

Thursday, 12 October 2023 - 17:00 (Europe/Brussels)
Palazzo Lombardia, Milan, Italy
Time to transform business for a nature positive society!
Welcome to the 2023 European Business and Nature Summit (EBNS) – the largest conference dedicated to crafting sustainable business models working with biodiversity at their core. This year's edition comes one year before COP16 and will put special focus on empowering businesses to take decisive transformative action to implement biodiversity targets lead the way towards a nature-positive society.
With keynote speakers from the realms of policy and business, the Summit promises to inspire and guide you through the essential steps needed to improve your relationship with nature. Dedicated group sessions await you, designed to monitor, assess, and disclose biodiversity; reduce impacts and regenerate ecosystems; unlock financial resources through innovative mechanisms; and foster inclusive partnerships to accelerate action. Through these sessions, you will gain valuable insights, forge pre-competitive collaborations, and learn from the successes of leading businesses, financial institutions, entrepreneurs, NGOs, and policymakers. This year, the EBNS will put special focus on the Mediterranean region, a biodiversity hotspot where industries face significant nature-related risks.
We firmly believe that a whole-of-society approach is vital to shift the current economic paradigm in alignment with global goals for nature. Join us in recognizing the critical role of businesses, public authorities, NGOs, and other stakeholders in fostering collaboration. Together, we can safeguard our planet's biodiversity and shape a sustainable future for all. The Summit will allow you to discover innovative solutions to reshape business models and ensure the protection and restoration of biodiversity. By sharing our expertise and experiences, and showcasing tangible examples of effective action, we aim to inspire your positive change.
Don't miss this extraordinary opportunity to learn about concrete actions that businesses can take to protect and restore biodiversity. Be the catalyst for change and inspire others to join this urgent mission.