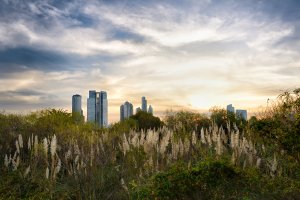 Monday, 31 October 2022 - 9:00

to

Tuesday, 1 November 2022 - 17:00 (Europe/Brussels)
Scope and purpose of the event
Urban nature-based solutions (NBS) present a vital and fascinating range of opportunities and challenges, for policy, practice, research and innovation. How cities approach the co-creation of NBS is centrally important to the ways in which these impacts and relationships develop, and ultimately, the future of those cities. The complexity of land ownership, fragmentation of habitats, and historical community development all add vital nuances to urban interventions that differ greatly from NBS or ecosystem restoration initiatives in rural settings.
Objectives of the event
This event will enable open, inclusive and constructive discussions centred around nature-based solutions.
The conference will publicise and open up learning and enquiry into NBS, including Conexus project activities and results.

NBS plans, programmes and pilots in a range of Latin American and European cities will be profiled, examined and celebrated.

Realised, planned and emerging NBS in the city of Buenos Aires and beyond will be showcased.
With the now virtually global acceptance of a definition of nature-based solutions (NBS), recently agreed at the UN Environment Assembly, significant progress with implementation is being made in many urban contexts. But as the EU's State of the Art in NBS initiative highlighted, there remain many knowledge gaps and innovation opportunities involved for all sectors of society.
Furthermore, the very framing of NBS, along with many key authorities, calls for economic benefits and evidence of cost effectiveness of these innovations. Some have highlighted the critical gap in public sector support and the urgent need to bridge the gap between rhetoric and action, for example through increased funding for urban climate adaptation investment in NBS. Others highlight market mechanisms, calling for the increased monetisation of NBS and the unlocking of private sector funding streams. It is also essential that NBS respect social and environmental safeguards, including for local communities and indigenous peoples in line with the three "Rio conventions".
What are the implications of these imperatives and how can these goals be mobilised in the urban myriad of complex, evolving and exciting environments, In Latin America and Europe? And what are the shared and differing issues (constraints and solutions) in each continent? How can NBS bring benefits to low-income communities? In facing these urgent challenges, how can cities best respond to the challenges and opportunities around data, policy and action, and how are they pursuing innovative approaches, here and now? These are just some of the questions that will be posed and discussed at the Conexus project conference in Buenos Aires.
The conference is open to all.
We look forward to welcoming national, local and international policy makers; local and regional municipal government staff; NGO and private sector activists in NBS; academic and researchers; postgraduate and undergraduate students; Interested members of the public and staff of community groups and initiatives.