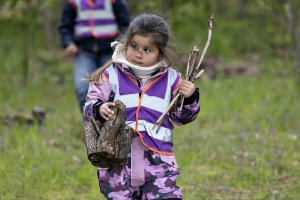 Thursday, 3 June 2021 -

15:00

to

16:30 (Europe/Brussels)

(Europe/Brussels)
The Center for Children & Nature at the University of Copenhagen and the REGREEN project welcome you to a webinar on green co-creation. Drawing on two recent Scandinavian projects, researchers will present examples of co-design with children and adolescents, showing how they involved children and youth in the design of natural play environments and neighborhood green spaces.
We welcome both practitioners and researchers working with or having interests in co-designing green play spaces with children. Following each presentation, there will be time for both questions and discussion, e.g., based on similar examples from other settings that the participants might bring up.
Registration: https://science.nemtilmeld.dk/810/
Programme (CET):
3:00-3:15: Introduction to the seminar
3:15-3:45: Co-designing playscapes that promote child-nature contact.
Åsa Sang, Fredrika Mårtensson, Linnea Herngren and Josefin Ågren, The Swedish University of Agricultural Sciences (SLU), Department of Landscape Architecture, Planning and Management, Alnarp.
3:45-4:15: Co-designing neighborhood spaces with children.
Bettina Lamm, University of Copenhagen, Department of Geosciences and Natural Resource Management.
4:15-4:30: Bridging across the examples
See more about the organizers here: