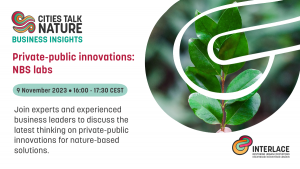 Thursday, 9 November 2023 -

16:00

to

17:30 (Europe/Brussels)

(Europe/Brussels)
Join us on 9 November 2023, as part of the CITIES TALK NATURE: Business Insights series. Experts and experienced business leaders will present the latest thinking on nature-based solutions private-public innovations and address the following questions:
● How can NBS laboratories build market trust in green-blue solutions in the face of established "grey" technologies?
● How are private-public partnerships in NBS labs organised and funded?
● How are NBS labs contributing to move the NBS agenda in their cities, region, countries?
Sharing their experiences and expert advice, will be:
Karolina Villagra - Associate professor and researcher at the Costa Rican Institute of Technology (ITCR) and coordinator of the Soils Physics Laboratory, and the Laboratory for Climate Change Adaptation based on Green Infrastructure (LACCLIVE), both at the Agricultural Engineering School.
Manel Isnard , Biologist in charge of the fluvial environment of the Besòs Tordera Consortium. Member of the management team of the Urban River Lab. Previously, Head of the Montornès del Vallès WWTP plant and responsible for discharge control at the Consortium.
Albert Sorolla - Technical manager of the company Naturalea, specialized in landscape restoration and pioneer in the design and execution of landscape bioengineering techniques and NBS. Member of management team of the Urban River Lab.
This webinar is part of the CITIES TALK NATURE: Business Insights series of webinars. Each webinar in the series will feature successful small and medium enterprises (SMEs) from Europe and Latin America based outside capital cities. Businesses will be sharing their successful projects and discussing barriers and enablers to their business and more generally to the NBS sector in their city and country. Learn from their experiences and be inspired on your own nature-based solutions business journey!  
---
By registering for the webinar, you confirm that you have read and agree to Cities Talk Nature's DATA PROTECTION and CONSENT FORM.
Al inscribirse en el seminario web, confirma que ha leído y acepta el FORMULARIO DE CONSENTIMIENTO Y PROTECCIÓN DE DATOS de Cities Talk Nature