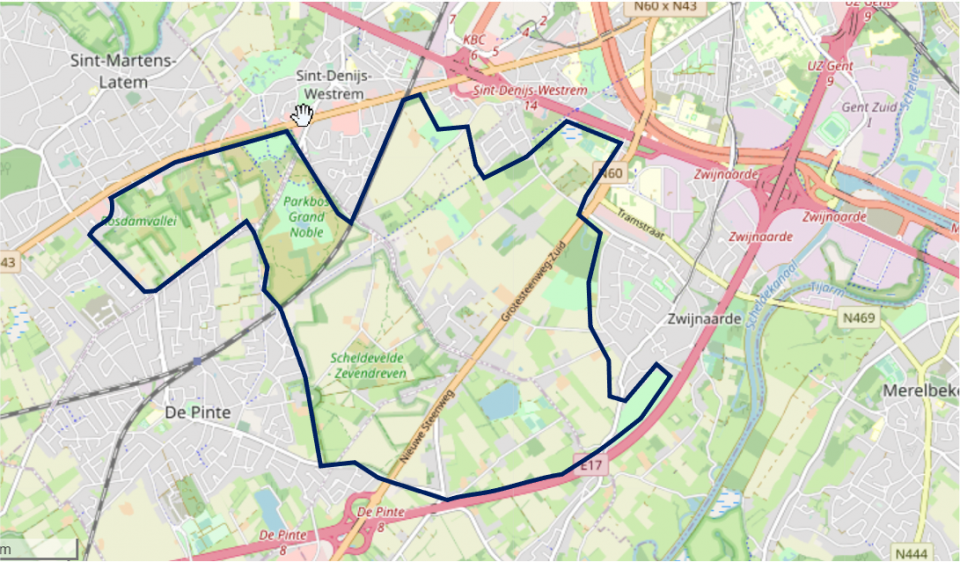 Area characterisation:
Biogeographic region: Atlantic
Surface area: 1200 ha
Country: Belgium
Region/Province: Flanders/East Flanders
The peri-urban forest is a new afforestation at the southern edge of the City of Ghent (Belgium). The area is a mosaic of old and new forests, agricultural land, and historic sites (mainly castles and estates). Planting started in 1996. Realisation started in 2002, with a planned end date around 2023. The main actor is the Flemish Agency for Nature and Forests (ANB), in close collaboration with the Province of East Flanders, the City of Ghent, the Municipalities of De Pinte and Sint-Martens-Latem and the Flemish Land Agency (VLM).
Objective:
Starting with a single focus on afforestation, the project aimed at integrating Nature-Based Solutions for limiting flooding, enhancing biodiversity and reducing traffic noise pollution.
Following an integrated approach, further objectives included:
Safeguarding agriculture in the long term, by setting aside dedicated areas for agriculture for local farmers;
Increasing road safety for pedestrians and cyclists (restructuring crossings, developing links for recreational traffic);
Providing opportunities for recreation and play;
Safeguarding historical elements in the landscape and restoring vistas.
The forest has further been integrated into the green-blue climate axis network around the city in order to reduce the urban heat island effect.
Actions:
PRINCIPLE UF-NBS (Urban Forests as Nature-Based Solutions) ACTION(S)
Forest plantations/afforestation
OTHER PRINCIPLE NBS ACTION(S) – non-UF
NBS benefits
Reducing temperature at meso or micro scale
Increase Biodiversity
Increased cultural richness and biodiversity
Enhancing sustainable urbanisation
Increase accessibility to green open spaces
Increase amount of green open spaces for residents
Increase well-being
Lessons learned:
Parkbos Ghent is a long-lasting afforestation/reforestation project, that has seen interesting changes during its planning and implementation. Starting as a forestry project (with a single focus on increasing the forest area for recreational use), it turned into an integrated landscape restructuring project that integrates forest, agriculture, recreation and landscape heritage with other challenges in the area. Although the project claims to be participatory from the initiation phase, it was more consultation than participation, and specific groups felt to be left out of the participation process (resulting in conflicts with local authorities and farmers). Twenty years later, most actors are happy with the result and see the advantages of the project.
Financing:
Community fundraising:
Only for the land owned by Natuurpunt (Nature Conservation NGO).
City, regional general funds:
Main cost (land purchase) paid by the Flemish government, either through direct purchase, either by co-funding land purchase cost to the municipalities and the Nature Conservation NGO.
Operational costs (communication, staff costs for the project coordinator, …) are also split between all partners, with the Flemish Agency for Nature and Forests covering most budget.
Costs for local interventions and management are assigned to the responsible partner(s).
Private sector investment: 
Only for the land owned by Natuurpunt (Nature Conservation NGO).
International funds:
LIFE99 ENV/B/000650 – 904.440 EUR (442.897 EUR co-funded by the EU)
NBS classification
Urban forest
Large urban park
Woodland play area
Further information
The compilation of this case study description has been funded by the Horizon 2020 CLEARING HOUSE project. This project has received funding from the European Union's Horizon 2020 research and innovation programme under grant agreement No 821242.
Sustainable Development Goals
3. Good Health and Well-being
11. Sustainable Cities and Communities
15. Life On Land
Key Performance Indicator: