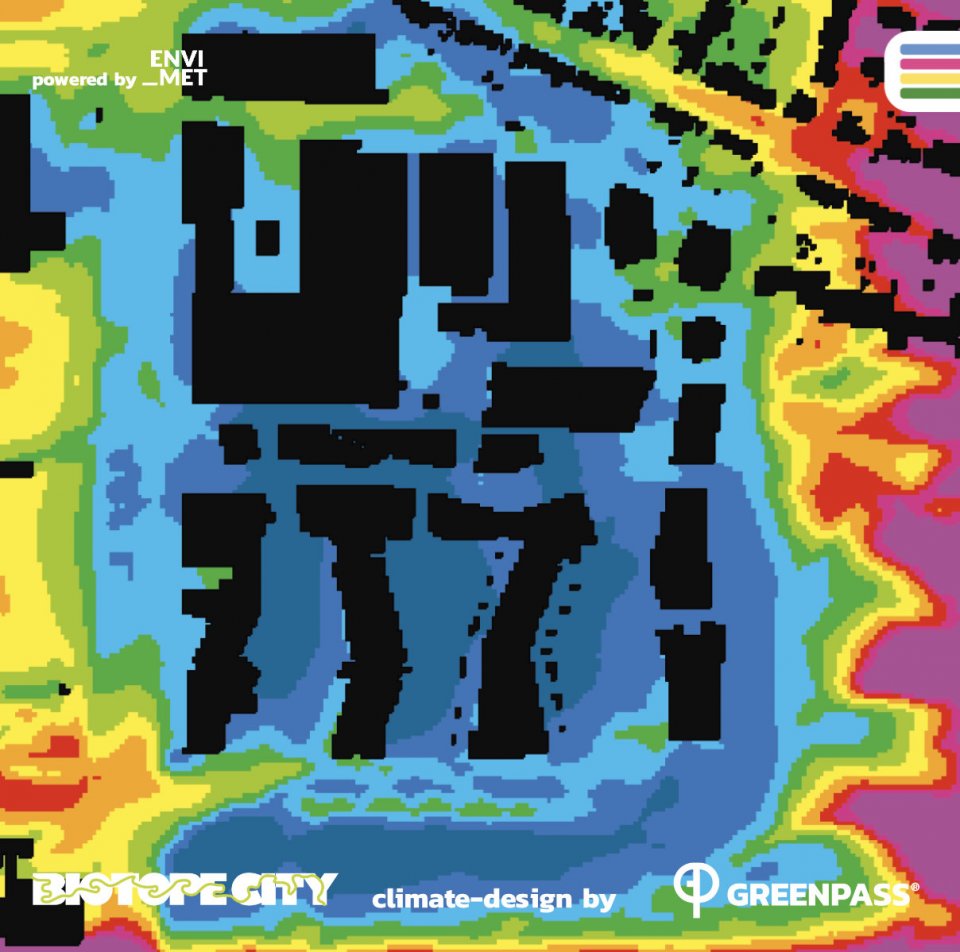 Area characterisation:
The world's first Biotope City is located on the property of former Coca Cola company in the South of Vienna/Austria. The project area is approx. 7 ha large and located adjacent to the 'Wienerberg' recreation area in the 10. disctrict of the greenest city in the world.
Formerly the site was completely covered with factory buildings. Instead of this a dense, green residential area is planned – even more than that: an area, which will implement the guiding principles of an urban biotope. The area borders along the busy Triesterstrasse, with on its opposite side, the Wienerberg City with its' closely packed residential towers – an unfortunate heritage of urban misapprehensions of the 80s, which can also be found in Vienna. In the north, however, the area is adjacent to grouping of small houses dating back to the 1930s', and in the south and east to the Wienerberg and Otto Benesch-Park are large green recreational areas. Only on the northwest corner is there still a small factory, namely, a painters shop.
Actually already more than 2,000 happy residents live within the world's first official climate-fit & GREENPASS Platinum certified urban quarter, which has been finalized in 2021.
Objective:
Biotope City is an integral concept of the Biotope City Foundation Amsterdam based on the integrative combination of Flora + Fauna + Humans to realise the dense city as nature.
World's first official climate-resilient district and world's first constructed Biotope City in Vienna with 2/3 affordable social housing and climate adaptation by the support of GREENPASS - the world's first Software-as-a-Service for climate resilient urban planning & architecture (www.greenpass.io).
Actions:
Realization of around 950 apartments in various typologies, including approx. 600 subsidized apartments and approx. 200 low-cost SMART apartments (2/3 affordable social housing)
Climate-optimized design with IT-Support by GREENPASS
Holistic climate-resilience assessment with simulation-based analysis powered by ENVImet
Official Certification - world's first GREENPASS PLATINUM certified and climate-fit district
Mixed and varied use of the area through office space, kindergarten, new middle school and shops
Urban and lively base zone through commonly usable communal areas
Co-Creation & User participation through participation in planning and maintenance
Generous space for play, sport, local recreation and urban gardening across all building sites
Community areas as meeting points for residents, e.g. roof gardens, community pool, greenhouses
Private and public green spaces as well as green roof terraces
Large-scale use of extensive to intensive green roofs
Ground- and planter-based facade greening as part of the facade design 
Large number of new plantings using large-crowned trees
Preservation of existing trees on the north and north-east border of the area
Graduated vegetation structures, diverse greening with native species
Use of sustainable and integrative water management
Land recycling through the introduction of fresh topsoil into the former Commercial area
Building material recycling through extensive recycling of demolition material in Building process
Support by two scientific research projects
Development of the Biotope City criteria catalog for quality assurance in Master plan
Potential impacts/benefits:
impacts by optimized design compared to status quo
high thermal comfort (+24 TCS points)
up to 22.3°C PET reduction
up to -2.2°C air temperature reduction
33 % less rain water run-off
40 % less sealed area
more than double Carbon Sequestration on a typical heatday
+11.1 ha leaf area
+2.5 ha green area
approx. 50 % less Thermal Storage Score
NBS benefits
Developing climate change adaptation; improving risk management and resilience
Flood peak reduction
Increase infiltration / Water storage
Increasing infiltration
Reduce flood risk
Reduce load to sewer system
Reduce run-off
Reducing temperature at meso or micro scale
Carbon sequestration and storage
Improve connectivity and functionality of green and blue infrastructures
Increase Biodiversity
Increase quality and quantity of green and blue infrastructures
Enhancing sustainable urbanisation
Improve air quality
Increase amount of green open spaces for residents
Increase awareness of NBS solution & their effectiveness and co benefits
Increase social interaction
Increase stakeholder awareness & knowledge about NBS
Increase well-being
Provision of health benefits
Transferability of the result:
The Biotope City Concept is fully transferable worldwide. For transferability of the Biotope City a practical construction guideline (Biotope City Bauanleitung) for a Biotope City has been developed.
Download Link: https://biotope-city.net/bauanleitung-biotope-city/
Lessons learned:
For lessons learned please see deeper R&D documentation available.
Financing:
approx. only 2 % of total construction costs for investment of green & blue infrastructure
NBS classification
Build or attached planter systems (including green balconies)
Choice of plants
Climber green walls
Diversity of plant species
Green roofs (1)
trees
lawn
meadow
blue infrastructure
Water
perennials
raingardens
shrubs
KPI models:
GREENPASS standardized Key Performance Scores (KPS), Key Performance Indicators (KPI) & Urban Performance Indicators (UPI) - based on ENVImet expert simulation
Sustainable Development Goals
3. Good Health and Well-being
11. Sustainable Cities and Communities
13. Climate Action
15. Life On Land