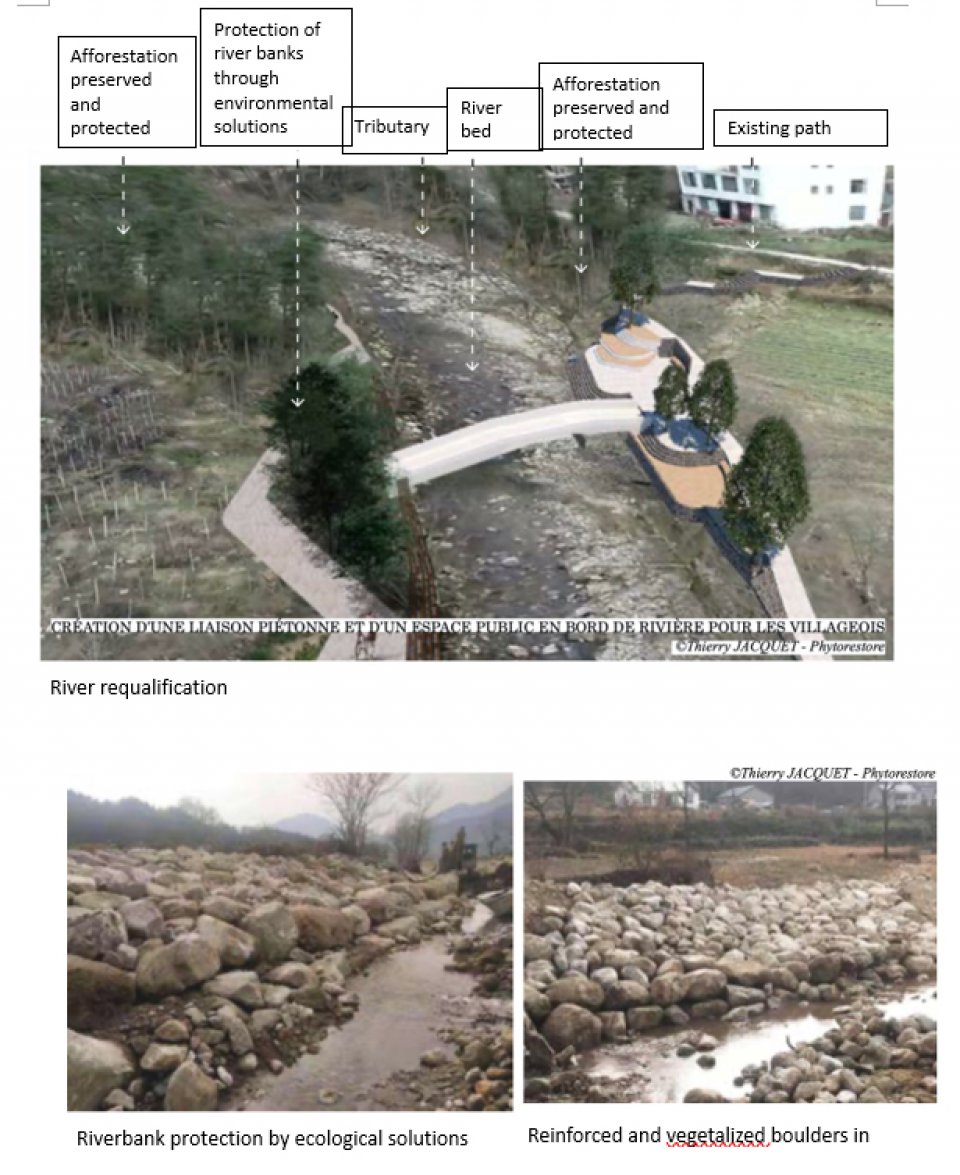 Objective:
River restoration for flood protection and ecological habitat creation, Tiantangzhai, Anhui, China
NBS benefits
Developing climate change adaptation; improving risk management and resilience
Increase infiltration / Water storage
Reduce flood risk
Reduce risk of damages from drought
Carbon sequestration and storage
Greater ecological connectivity across urban regenerated sites
Increase achievements of biodiversity targets
Increase Biodiversity
Increase social interaction
Social learning about location & importance of NBS
Financing:
Agence Française de Développement (AFD)
Project introduction:
Restoration of the banks of the Huangshi River to protect human activities against torrential floods and protect biodiversity.
Creation of ecological habitats for fish and amphibians, and roads and public places for the inhabitants.
1 / Protection against the risks of a mountain torrent
- To stop bed shrinkage due to agricultural and urban pressure;
- Protection of human activities and dwellings against the violence of the torrent;
- Establish the limits of the natural areas to be protected and protect the riparian zone
2 / Protection of the perimeter of the beds and reinforcement of biodiversity
- Clear delimitation of the bed and natural areas to be protected from urbanization or agricultural activities;
- Creation of numerous ecological habitats to promote the development or return of endangered aquatic fauna, especially for fish and amphibians such as the giant salamander;
- Shoreline protection through the use of mixed natural and mineral techniques.
3 / Local economic and social development
- Restoration of path connections for the inhabitants;
- Creation of public spaces for the inhabitants with access to the river;
- Creation of ecological discovery trails for the development of ecotourism and the pedagogical learning of biodiversity.
Sustainable Development Goals
2. Zero Hunger
4. Quality Education
6. Clean Water and Sanitation