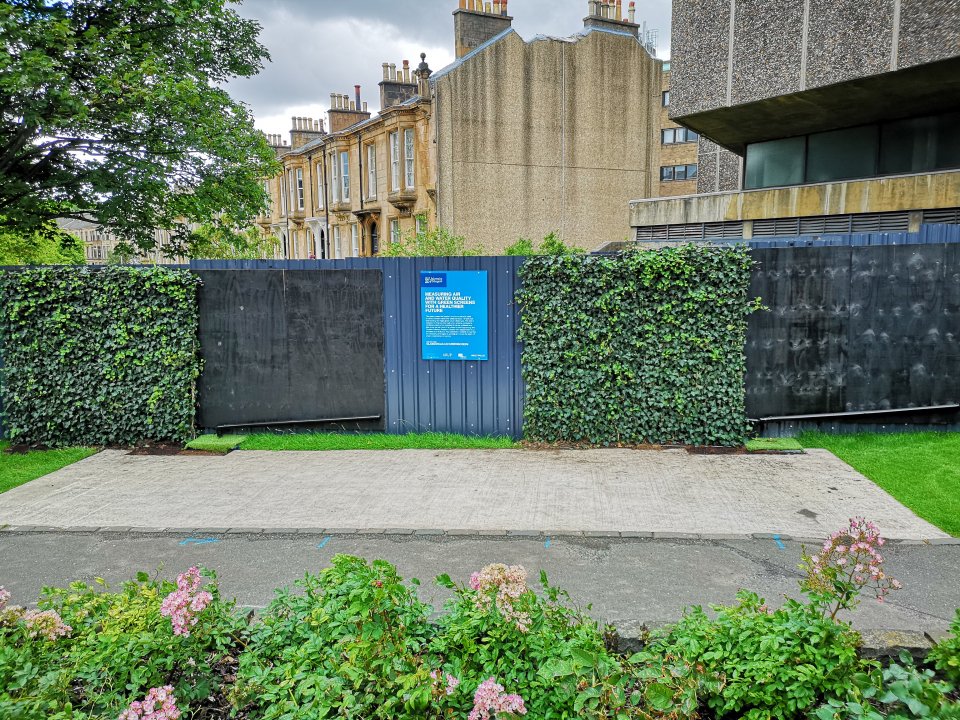 Area characterisation:
This project is being performed in 3 location across the University of Glasgow Gilmorehill Campus.
Objective:
To investigate the extent to which green screens (helix hedera) may provide regulatory ecosystem services. This includes acting as a buffer against airborne particulate pollution and reducing rainfall runoff rates compared to normal plywood construction hoarding. 
Potential impacts/benefits:
Buffer against airborne particulate pollution
Reduced rainfall runoff
Habitat Provision (not tested)
Aesthetic
NBS benefits
Developing climate change adaptation; improving risk management and resilience
Reduce load to sewer system
Reduce run-off
Greater ecological connectivity across urban regenerated sites
Improve connectivity and functionality of green and blue infrastructures
Increase quality and quantity of green and blue infrastructures
Improve air quality
Increase well-being
Provision of health benefits
Transferability of the result:
Improving the functionality/effectiveness of green screens
Understanding the potential effects that may be achievable with widespread deployment
Highlighting to policy-makers how vegetation can be an effective buffer against particulate pollution but needs to be properly planned and tailored to an area.
Lessons learned:
Project still in progress, Initial results suggest green screens may be an effective buffer ainst particulate pollution, particularly when particle concentrations are higher. Results also suggest that screens may reduce runoff rates. Additonally, student-led questionairres have indicated that the public look favourably on the green screens.
Financing:
EPSRC iCase Funding (Arup)
Screens provided at cost-price by Mobilane
Funding assistance from Multiplex
NBS classification
Vertical Greening Systems