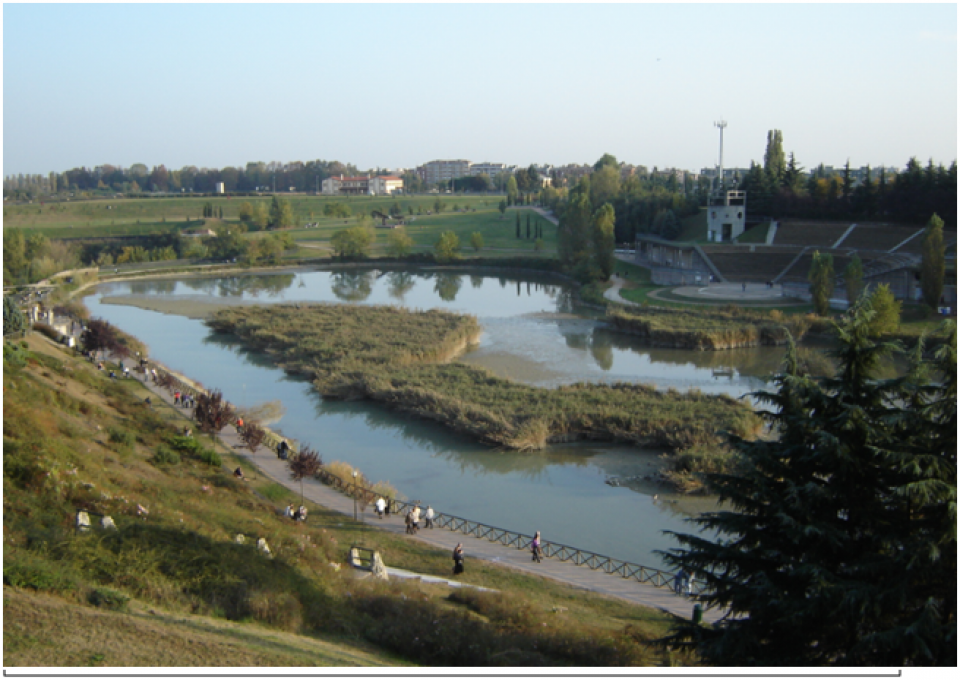 Area characterisation:
The Cava Nord of Paderno Dugnano is an excellent example that combines the extractive activities with the public use. The quarry is located in the Municipality of Paderno Dugnano in the northern sector of the metropolitan city, an intense urban area. It is enclosed by several orders of roads including the Milano-Meda highway, the north Milan highway ring, the old Valassina road and a major shopping center.
The Quarry occupies a total area of 29.75 hectares assigned to the extraction of dry gravel and sand up to the maximum depth of 27 meters from ground level. A good part of these area is already been recovered while continuing the extractive activities in the eastern part of the quarry area.
Objective:
The area is characterized by by the presence of two separate lakes connected by a tree-lined pathway. The first lake is used for the fishing while the second one is characterized by a more spontaneous development of wild flora and is the home of different bird species.
It aims to include : 
• morphological arrangement of the slopes of embankments produced by the extractive area for the future public use
• putting containment elements of the soil in particularly steep points;
• realization of green ramparts and rows of trees to masking/hiding noise and dust deriving from the working activities of the quarry and to permit citizens not to see the activities
• Vegetation reconstruction of marshland with the creation of a wetland;
• vegetation reconstruction of woods, hedges and rows;
• drawing up grass carpets
• recovery of agricultural areas;
• realization of a square crowned by trees to highlight the centrality of the point with respect to the overall project;
• construction of a parking area for entry from the town of Nova Milanese on the area of an old closed waste dump;
• for the public use of the re-naturalized area were constructed foot and cycle paths including the bridge crossing the wetland
• construction of public facilities for the use of the area: open space for free games, relaxation areas, picnic areas, foot paths, amphitheater, sports fishing dock, waterfall, bar and panoramic terrace;
• fulfillment of the lighting network for the fruition of the area.
Potential impacts/benefits:
• Macro scale mitigation by enhancing carbon storage and sequestration in vegetation and soil
• Micro scale adaptation through planting vegetation to improve local climate through cooling, shading and shelter
• Provide elements characterizing the heritage and aesthetics of the area
• Provide social interaction and support healthy living
• Air quality improvement
• Noise reduction ecological restoration
NBS benefits
Developing climate change adaptation; improving risk management and resilience
Reduce flood risk
Reducing temperature at meso or micro scale
Developing climate change mitigation
Carbon sequestration and storage
Restoring ecosystems and their functions
Greater ecological connectivity across urban regenerated sites
Increase Biodiversity
Increase social interaction
Transferability of the result:
Project that can be locally replicated, Data available
Lessons learned:
The environment problems that the quarry enterprise have managed from the beginning were the noise problems, dust and the presence of machineries and the factory linked with the quarry activities, in coexistence with the use of the completed areas by citizens. The enterprise answered to this problems with operational solution using the best technologies and and with realizing important environmental mitigation interventions
Financing:
The cost of the approved restoration project (which only represents the conclusion of the environmental recovery that the company has pursued over the years and the results of which already are widely visible and accessible) is about 144.983 euro. The quarryman finances the planning and the realization of the environment recovery project