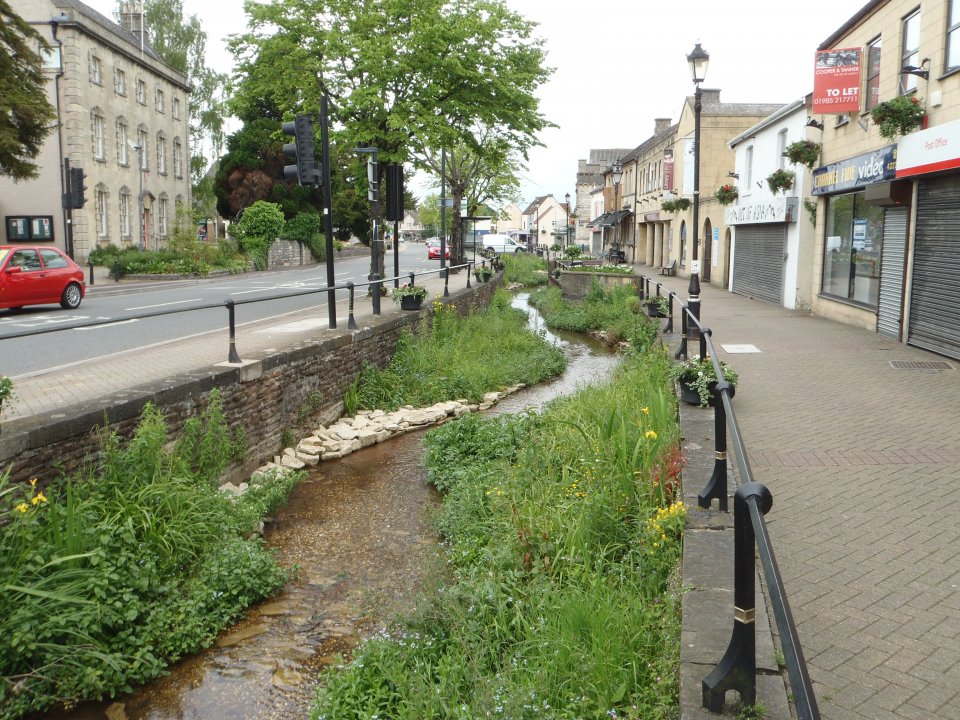 Area characterisation:
Midsomer Norton is an ancient market town, developed along the valley of the river Somer. The river is channeled through the high street and forms a link with the surrounding countryside.
Objective:
To improve an over wide and heavily silted reach of the river Somer running through Midsomer Norton high street, providing a diverse habitat for native fish, particularly wild brown trout, plants and invertebrates.
Actions:
The design team had limited materials to work with as the channel was comprised of natural bedrock and concrete. Therefore, the design was kept simple and based on a nearby pristine reach of river. To improve the flow of the channel and recreate the rivers natural course, a new meandering channel design was created by removing three weirs and constructing artificial river banks (berms). The berms were constructed from local limestone blocks and a selection of native riparian plants were planted along the edges of the new channel. Artificial pools and riffles were also created to mimic the natural processes of the river. The accumulations of silt were removed from the channel and re-used in the new design. The project took three weeks to complete.
Time was spent with multiple stakeholders which benefitted the scheme as it led to the formation of the Midsomer Norton River Management team. Involvement of the community from the outset led to increased understanding and support from locals who helped to plant the river beds and contribute to its maintenance.  
Since completion, a number of wildlife species have benefitted, with otters now inhabiting the site as well as an increased diversity of aquatic organisms including brown trout. There has been no flood damage as the low berms and herbaceous native vegetation were designed to cope with flood events. The channel is now self-restoring and there has been no more build-up of silt, reducing the need for dredging.
Potential impacts/benefits:
Potential impacts/ benefits

Challenges addressed

Enhancing sustainable urbanisation

Restoring ecosystems and their functions

Developing climate change mitigation

Developing climate change adaptation

Water Management

·Improve water quality

·Increase biodiversity

·Improve connectivity and functionality of blue green infrastructure

·Flood peak reduction

Urban Regeneration

·Increase wellbeing

·Changing image of the urban environment

·Greater ecological connectivity across urban regenerated sites

·Reduction in the energy production of new building materials

Participatory planning and Governance

·Increase communities sense of ownership

·Social inclusion

Green Space management and enhancing urban biodiversity

·Increasing amount of green space for residents

·Increase biodiversity
NBS benefits
Flood peak reduction
Reduction of energy in the production of new buildings and building materials
Greater ecological connectivity across urban regenerated sites
Improve connectivity and functionality of green and blue infrastructures
Increase Biodiversity
Changing image of the urban environment
Improve water quality
Increase amount of green open spaces for residents
Increase communities' sense of ownership
Increase well-being
Social inclusion
Transferability of the result:
Can be used in areas or developments with a channel or river running through.
Lessons learned:
Strong stakeholder and community involvement from start to finish of a project can lead to efficient, cost effective GI and can help source project funding and ensure its long-term maintenance.
It is important to plant river beds with native vegetation to prevent seed dispersal of non-native species downstream.
Successful multifunctional GI can be achieved even if there are material or funding restrictions, simple nature-based designs are very effective.
Financing:
Total cost of this project was £40,000. This was funded by B&NES Council and through fundraising by the local Somer Management Team.