Event posted by

Nea Pakarinen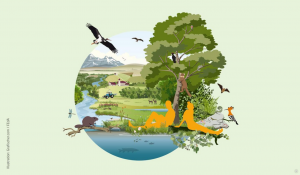 Wednesday, 9 November 2022 - 0:00

to

Friday, 11 November 2022 - 23:45 (Europe/Brussels)
First European FEdA Conference
Biodiversity and Human Well-Being –
Europe's Role in Shaping Our Future
Virtual Transdisciplinary Conference
November 9th–11th, 2022
BMBF Research Initiative for the Conservation of Biodiversity (Forschungsinitiative zum Erhalt der Arten­vielfalt, FEdA), funded by the German Federal Ministry for Education and Research (BMBF), invites you to participate at the transdisciplinary digital conference:
Biodiversity and Human Well-Being – Europe's Role in Shaping Our Future
November 9th–11th , 2022
To allow for a broad transdisciplinary discussion, the conference invites European scientists from all disciplines related to biodiversity, stakeholders from politics, society, economy and the media. More information on the programme and speakers of the event will be available soon on FEdA website.
You can  register for the conference for free: https://www.feda.bio/de/feda-conference-22-registration/
 In every conference workshop, there is an opportunity for young researchers to present their work in a talk (registration). In addition, researchers can register for a Science Slam.