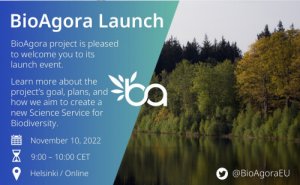 Thursday, 10 November 2022 -

9:00

to

10:00 (Europe/Brussels)

(Europe/Brussels)
BioAgora is pleased to welcome you to its launch event! 
BioAgora is a European collaborative project funded by the Horizon Europe programme. It aims to meet the needs of European decision-makers with the latest research outcomes on biodiversity by creating a space for dialogue among scientists, policy actors and other knowledge providers. 
BioAgora will develop the Science Service for Biodiversity, to become the scientific pillar of the EU Knowledge Centre for Biodiversity. The project will advance cooperation and co-learning among researchers, policymakers, and practitioners contributing to biodiversity protection. It will support the implementation of the Service with inclusive governance and a feasible business model. Demonstration cases from across the EU will showcase evidence-based decision-making within the framework of the EU Biodiversity Strategy for 2030.
Join us on November 10th for a hybrid event to learn more about the project's objectives and to discover BioAgora's plans for creating the Science Service for Biodiversity!