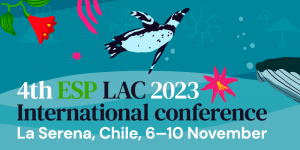 Monday, 6 November 2023 - 0:00

to

Friday, 10 November 2023 - 23:45 (Europe/Brussels)
La Serena, Chile (Hybrid)
The 4th International ESP Latin America and Caribbean Conference will be held in Chile on 6 -10 November 2023. The conference takes place under the theme 'Sharing knowledge about ecosystem services and natural capital to build a sustainable future'. This conference will allow everyone in the ecosystem services field, especially in Latin America and the Caribbean, to share ecosystem services knowledge and strengthen the regional network.
This ESP Latin America and Caribbean Conference is part of the bi-annual cycle of ESP conferences around the globe. ESP conferences are open to both ESP members and non-members. However, ESP members receive significant reductions to the conference registration fee and other benefits. ESP conferences are structured around the themes of the many ESP Working Groups.
Are you interested in presenting your work in one of the accepted conference sessions? The call for abstracts is now OPEN.