Event posted by

EdiCitNet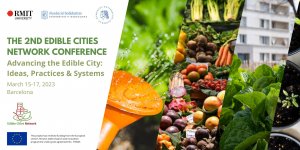 Wednesday, 15 March 2023 - 9:00

to

Friday, 17 March 2023 - 15:00 (Europe/Brussels)
Barcelona, Catalonia Gran Via de les Corts Catalanes, 585 08007 Barcelona Spain
Join the Edible Cities Network for its 2nd Annual Conference, taking place in Barcelona from 15–17 March 2023.
Advancing the Edible City will bring together leading researchers, policymakers and city administrators, civil society actors, green city activists and entrepreneurs to explore the ideas, practices, and systems necessary to support the sustainable, resilient and socially just development of our cities' food systems.
Whether you are a newcomer to the topic of urban food innovation, edible nature-based solutions and Edible Cities, or a seasoned professional, here are just a few reasons why Advancing the Edible City is the event you don't want to miss. Over these three days, you'll get the chance to:
Hear first-hand experiences from experts in the fields of urban farming, sustainable food collectives, community gardening and food systems research.
Take inspiration from food systems innovators worldwide through roundtable discussions.
Join unique field trips across Barcelona to visit grassroots urban food projects with real impact.
Explore the most interesting developments, successes and challenges from the Edible Cities Network project's Living Labs.
Learn about what different cities are doing to become more edible, by successfully integrating sustainable food policies and strategies into their urban development plans.
Discover exciting and impactful edible city initiatives from around the world – via the winners of the EdiCitNet Awards.
Network with hundreds of international urban food enthusiasts and together build alliances for more resilient urban food futures.
With a combination of keynote talks, roundtable discussions, field trips to urban food projects in Barcelona and lots of chances to discuss and network, this 3-day event will explore the very latest findings on the power of urban food innovation to tackle social, ecological and economic challenges within cities.
It will also offer space to create and discuss future visions for our cities, what steps we can take to integrate edible nature-based solutions into current and future urban developments, and how we can ensure cities become drivers for a sustainable food future for all.
Find out more and download the provisional program:
https://www.edicitnet.com/events/conference/
Registrations now open to attend in-person with registration to attend online opening soon:
https://www.eventbrite.es/e/advancing-the-edible-city-ideas-practices-an...
This project has received funding from the European Union's Horizon 2020 research and innovation programme under grant agreement No. 776665.