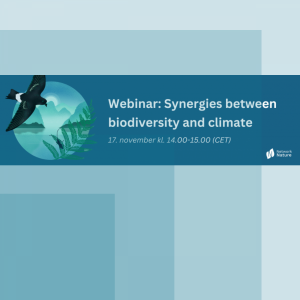 NetworkNature+ is proud to work with six local partnerships known as Nature-based Solutions hubs and invites all interested to discover synergies between climate and biodiversity to join an upcoming Nordic Hubs webinar on 17 November 14:00 CET. The hubs bring researchers policy-makers, businesses, and the public sector together to create long-lasting structures for NBS uptake, foster capacity building and knowledge exchange, build relationships and new partnerships, and create a nuanced understanding of NbS and address local specificities of barriers and opportunities for NbS.
The NetworkNature Nordic hub is a gathering place for all those who work with nature-based solutions in the Nordic region. It is a platform for exchanging contacts and sharing knowledge on implementing nature-based solutions in this unique part of the world. The Nordic hub has many resources to share, including case studies in its case study finder page, as well as reports from local findings.
At the upcoming webinar: Synergies between Biodiversity and Climate speaker Rikke Fischer-Bogason from NORION will present findings from a recent report, Synergies between climate and biodiversity objectives in laws, policies, and management practices. Line Johanne Barkved from NIVA will present the S-UMMATION report where pilot projects with a special focus on synergies between biodiversity and climate will be presented.
With interest in attending, find further details here.