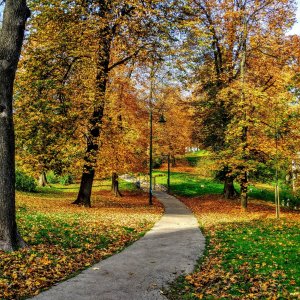 The EU-funded project CLEARING HOUSE is coming to an end - the four-year Sino-European project focused on Urban Forests as Nature-based Solutions (UF-NbS) to improve urban living in Europe and China. Urban Forests are a subset of Nature-based Solutions which use tree-based urban ecosystems to address societal challenges, simultaneously providing benefits for people and biodiversity. 
The CLEARING HOUSE project gathered twenty-six international partners joining efforts for collaborative research and knowledge exchange on the contributions of urban forests for sustainable and healthy cities. The project featured ten case studies across Europe and China with diverse approaches to tree-based green infrastructure including "street parks" to improve local biodiversity in Brussels, river parks in Barcelona and Krakow, coastal shelter-belt forests in Xiamen and many more.
In light of rapid urbanisation, environmental degradation, and climate change, CLEARING HOUSE examined how urban forests play a critical role in sustainable urban development and human well-being. Urban forests have the potential to provide habitat and serve as refuge for a wide range of species hence sustaining high urban biodiversity. Trees in cities can also mitigate heat waves and flooding events, while improving air quality and enhancing human health. CLEARING HOUSE also focused on social inclusion and on improving access to green spaces in communities where they are most needed such as in low-income neighbourhoods. 
CLEARING HOUSE experts conducted an extensive knowledge review on UF-NbS, facilitated learning among a wide range of stakeholders in Europe and China, produced a set of decision support tools and guidance to design and implement UF-NbS, and increased societal awareness. Some outcomes of the project include: 
A novel typology of urban forests as nature-based solutions

Guidelines for local authorities and other public organisations on implementing urban forests as nature-based solutions

'City of Trees' inspirational package for learning with trees and nature (for 10-14 years old)

Business models for urban trees as nature-based solutions

The CLEARING HOUSE project Spatial Information and Knowledge Hub
On 16 October, CLEARING HOUSE participated in the World Forum on Urban Forestry in Washington, DC, where it presented the project's insights for the design and implementation of urban forests in Europe and China and discussed future collaboration across the world. 
As it is near completion, CLEARING HOUSE now hosts several events to share its final outputs and key lessons for the deployment of the full potential of urban forests as Nature-based solutions for liveable and resilient cities. A four-webinar series will be delivered on 15, 17, 22 and 24 November drawing from the thematic guidelines developed by the project experts for successful urban forest implementation. Then, on 28-29 November, the project's project event will be held in Brussels in a joint organisation with the REGREEN project. This major knowledge sharing event will engage a wide range of policy-makers, scientists and NbS practitioners to discuss opportunities and best practices for Urban Forests and Nature-based Solutions in shaping sustainable urban futures. Registration for these events is open, and anyone interested in urban forests and Nature-based Solutions is welcome to join! 
Register for the four-webinar series and for the final event in Brussels. And for more information on the project, visit the CLEARING HOUSE website.