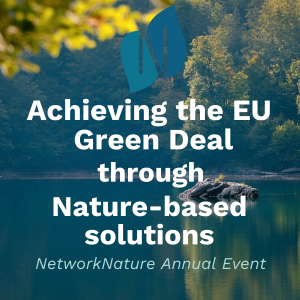 On 21st October, Network Nature held its first Annual Event which focused on the Network Nature semester theme "Ecosystem restoration through nature-based solutions", in line with current EU ambitions for achieving the European Green Deal and the start of the UN Decade on Ecosystem Restoration.
The all-day online event, moderated by Anna Jones, an Agricultural Journalist & Broadcaster, which aimed to create a space for dialogue for the Nature-based Solutions community and invite new and impactful actors, gathered policy makers, scientific experts, civil society representatives as well as landowners, natural resource managers and businesses.
The event explored opportunities for strengthening engagement and partnerships for NBS. The objective was to promote the uptake of project results and to support Horizon 2020 NBS projects, as well as the Biodiversity Partnership and Horizon Europe Missions to integrate NBS for ecosystem restoration effectively in future plans and actions.
The opening plenary started with an introduction to Network Nature's added value by Bettina Wilk, Senior Officer Sustainable Resources Climate and Resilience at ICLEI and coordinator of Network Nature. As a key resource for the NBS community, Network Nature facilitates the creation of opportunities for local, regional and international cooperation. Chantal van Ham, Acting Director of IUCN European Regional Office, further emphasised the role of Network Nature in engaging new audiences, such as forest and landowners, water managers, as well as the finance and infrastructure sectors, who play a key role in upscaling NBS. The immense potential of NBS to address societal challenges was presented by Daisy Hessenberger, IUCN Global Ecosystem Management Programme, as well as the risks associated with their misidentification and misuse, which may weaken the evidence base on NBS and lead to harm to people and nature.  For this reason, the Global NBS Standard was presented as providing a global language to mainstream NBS.
Frederic Lemaitre, Officer in charge of science-society and policy interfacing for BiodivERsA, provided an overview of the ongoing work to develop an EU Research & Innovation Roadmap for NBS. The results of their research show that a high proportion of NBS projects focus on urban environments and agricultural land. The main societal challenges addressed are linked to social justice and social cohesion, new economic opportunities and green jobs, followed by climate resilience, and food security.
A lively panel debate on the needs and opportunities for upscaling NBS concluded the plenary session of the event, with speakers from the Network Nature NBS Community representing cities, landscape architects, the business sector, and projects implementing NBS on the ground, namely Holger Robrecht (ICLEI), Tony Williams (IFLA), Giulia Carbone (WBCSD), Pierre Failler (MaCoBioS), and Tom Wild (Conexus).
The discussion, facilitated also by the numerous questions from the audience, concluded that nature - compared to grey solutions - provides multiple benefits, from coastal defence and risk reduction, to the creation of more liveable places, supporting tourism, and enhancing biodiversity. The delivery of multiple co-benefits was one of the key factors mentioned by the panellists crucial for ensuring NBS upscaling, in addition to proper education, research adapted to the local context, skills development and re-skilling programmes, and the use of the IUCN Global NBS Standard.
Five parallel sessions took place, addressing different areas of relevance to NBS:
During the closing plenary, Philippe Tulkens, from DG Research and Innovation of the European Commission, emphasised the importance of investments in NBS for achieving the Green Deal ambitions for the EU, in particular the value of nature for citizens' mental and physical health, as well as for climate change mitigation. He concluded that a science-based approach is important to successfully address the climate crisis and to incentive investments from the public and private sector.
A panel discussion on achieving Ecosystem Restoration targets through joint actions for NBS brought together a range of stakeholders: Raysa França (Youth4Nature), Richard Scott (SER Europe), Jurgen Tack (ELO), Raul Sanchez (UrbanGreenUp project) and Silvana Di Sabatino (Operandum project). They agree that in order to achieve ecosystem restoration no one should be left behind. Ensuring the representation and involvement of youth, communication among people and stakeholders, and effective cooperation across sectors are among the main challenges to overcome for the implementation of NBS projects for ecosystem restoration.
The Network Nature Annual Event concluded with a message of hope: despite the different crises the world is facing, this is an exciting time to act. Progress on NBS is developing and will continue to grow but more efforts are needed to seek "diversity", both in the ecosystems to protect and in bringing together the groups to make this happen.
The recordings of this event (opening and closing plenaries, and parallel sessions) and the presentations can be accessed here.
A full report of the event is available here.