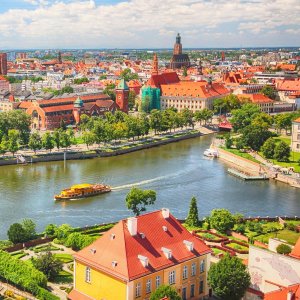 Blog originally published on the IUCN website. Republished with permission from IUCN. 
The COVID-19 pandemic has highlighted the importance of green and blue infrastructure in cities as a refuge for urban residents, providing a range of health and other benefits. A webinar held on 29th October 2020 discussed this issue in the context of experiences in European and North American cities and of research conducted by the BiodivERsA-funded ENABLE project into green and blue infrastructure in complex social-ecological regions. The webinar was moderated by Kate Reilly and Chantal van Ham from the IUCN European Regional Office.
Erik Andersson from the Stockholm Resilience Centre spoke about enabling equal access to green refuges. He emphasised that, 'urban ecosystems have the potential to provide humanity with a number of ecosystem services and benefits, from temperature regulation to recreational opportunities, and spiritual experiences. It is important to understand for whom these green and blue infrastructures offer value and how people within different social-ecological regions make use of what spaces are available to them'.
David Barton, Norwegian Institute for Nature Research, discussed the role of green refuges for enabling cities' preparedness for future pandemics and global change. He said that 'prior to COVID-19 we didn't appreciate how much these spaces work as refuges. COVID-19 has highlighted existing social inequities in urban populations, and we have found that those who have been most exposed and at risk from COVID-19 are also the same groups of people that have restricted access to sufficient green space'.
Sarah Charlop-Powers, Natural Areas Conservancy NYC, reflected on changes in uses of green space in the city of New York during the pandemic. The city has a surprising amount of parkland and natural forests, which are important for its residents; over 50% of New Yorkers reported recreating exclusively in New York City parks. This summer, the Conservancy conducted a social assessment where they interviewed park users, with a majority saying they were spending more time in the parks, mainly due to the stress of COVID-19 and the recession. The Conservancy also surveyed non-profit park conservancies in the city to understand the impacts of COVID-19 on the use and maintenance of parks and to gauge priorities for the year ahead. They found that 58% of conservancies reported a loss of staff, 78% reported reliance on volunteering in natural areas and 38% reported that remaining natural areas staff now focused on routine maintenance like litter collection.
David Barton, Norwegian Institute for Nature Research, presented results from a recently published paper on recreational uses of green spaces during COVID-19 in Oslo, Norway. Oslo residents used urban green spaces almost three times as much after the March 12th lockdown in comparison to the same period in 2017 to 2019. People tended to seek green space with tree crown cover and the use of less dense trail networks increased over lockdown.
Dagmar Haase, Humboldt University Berlin, discussed the role of green spaces during and after the 2020 spring lockdown in Germany. Dagmar's key messages included that the pandemic is highlighting unequal access to green space, both physical availability and accessibility and occupational freedom and capacity. She emphasised the 'need to improve green space availability and accessibility at neighbourhood scale'.
Francesc Baró, Universitat Autonoma de Barcelona, discussed whether changes in exposure to nature during the COVID-19 lockdowns were associated with improved mental health outcomes. In Portugal, where lockdown regulations were less strict, public nature and greenspaces played a more prominent role, whereas tougher lockdown roles in Spain meant that private gardens and indoor plants were more important. Visits to natural places were associated with less stress.
Chris Kennedy from Urban Systems Lab discussed the results of a survey conducted on the perception and use of urban parks and open spaces in New York and the United States during COVID-19. Many respondents visited parks or green spaces frequently during lockdown for an average of 1-2 hours. The majority reported that they considered parks and green spaces to have been either 'extremely important' or 'important' for their mental and physical health during the lockdown.
The recording of the webinar is available here.
For more information please contact Chantal van Ham, e-mail: Chantal.vanham@iucn.org or Kate Reilly, e-mail: kate.reilly@iucn.org