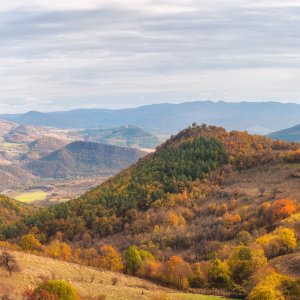 News originally published on the IUCN website. Republished with permission from IUCN. 
Gland, Switzerland - The European Green Deal is aligned to mobilise action on nature-based solutions (NbS) and, at the same time, help deliver the European Recovery Package, according to IUCN, which co-hosted a virtual event this week the German Federal Ministry for the Environment and the UN Environment Programme on the European Green New Deal and Nature-based Solutions.
"The European Green Deal provides us with an opportune research, policy and action framework to not only mobilise implementation, but to fast track financing for nature-based solutions at large scales," said IUCN Director General Dr Bruno Oberle, who participated in the high-level opening session of the event. "IUCN is convinced that Europe can achieve its ambitions set out in the European Green Deal, while simultaneously supporting short-term crisis management responses as well as longer-term economic recovery outlined in its European Recovery Package.
"The new IUCN Global Standard for Nature-based Solutions can serve as a key tool to help the EU Member States and businesses benchmark progress as we try to build a more inclusive and sustainable society."
Examples of NbS include reforestation, green infrastructure, sustainable agriculture and aquaculture, wetland, river and peatland restoration as well as natural coastal protection.
IUCN's Director General underscored three key areas that are needed to bring NbS actions to scale: creating more consistent policies, catalysing finance and investment instruments, and generating new knowledge and learning.
"We have a solid proof of concept. Nature-based Solutions have shown they can address societal challenges like climate change, while providing many co-benefits for people and nature," said Radhika Murti, Director of IUCN's Global Ecosystem Management Programme, who has helped oversee the development of the new IUCN Global Standard. "Now, EU Member States need to leverage the full potential of nature-based solutions by embedding them across sectoral policies."
IUCN European Regional Director Luc Bas added: "The EU Farm to Fork and Biodiversity strategies, as part of the European Green Deal, can deliver nature-based solutions that scale-up genuine restoration and contribute to biodiversity. For example, EU Member States can follow the international community and make restoration pledges under the global Bonn Challenge initiative."
Launched by the German Government and IUCN in 2011, the Bonn Challenge aims to restore and conserve 350,000 hectares of degraded and deforested land by 2030. Thus far, 61 countries have joined this effort.   
According to the European Commission, more than 200 million euros have been invested in NbS research and demonstration projects over the past four years, and more funds are expected to focus on NbS through the European Green Deal and Horizon Europe going forward. 
Many of the high-level speakers participating in the event, held on 14 December, emphasised that an NbS approach can deliver multiple benefits for Europe, provided the different policies are aligned and implemented.    
"Nature is our most important partner. It creates solutions in the fight against the climate crisis and helps to adapt to climate change," said German Federal Minister for the Environment Svenja Schulze. "The good news is that we know of appropriate measures to address climate change and species extinction at the same time, solutions that are socially just and at the same time particularly cost-effective: so-called nature-based solutions. We need stable and adaptable ecosystems as a foundation for life, and we must therefore do everything we can to protect and restore them… A forward-looking EU policy, such as the Green Deal, must therefore include nature-based solutions."
Inger Andersen, Under-Secretary-General of the United Nations and Executive Director for the UN Environment Programme, which also co-hosted the event, said:
"As UNEP's Emissions Gap Report makes clear, we are in a climate emergency, heading to a world which is at least 3°C degrees warmer by the end of the century. Addressing the climate emergency requires us to rapidly step up decarbonization of our economies, AND invest in restoring ecosystems, that protect nature's infrastructure. As the UN Secretary-General has noted, making peace with nature is the defining task of the 21st century. It must be the number one priority for everyone, everywhere because making peace with nature is about securing people's well-being and sustainability."
For more information, visit the IUCN NbS webpage here.
Read the full German Government's press release here.