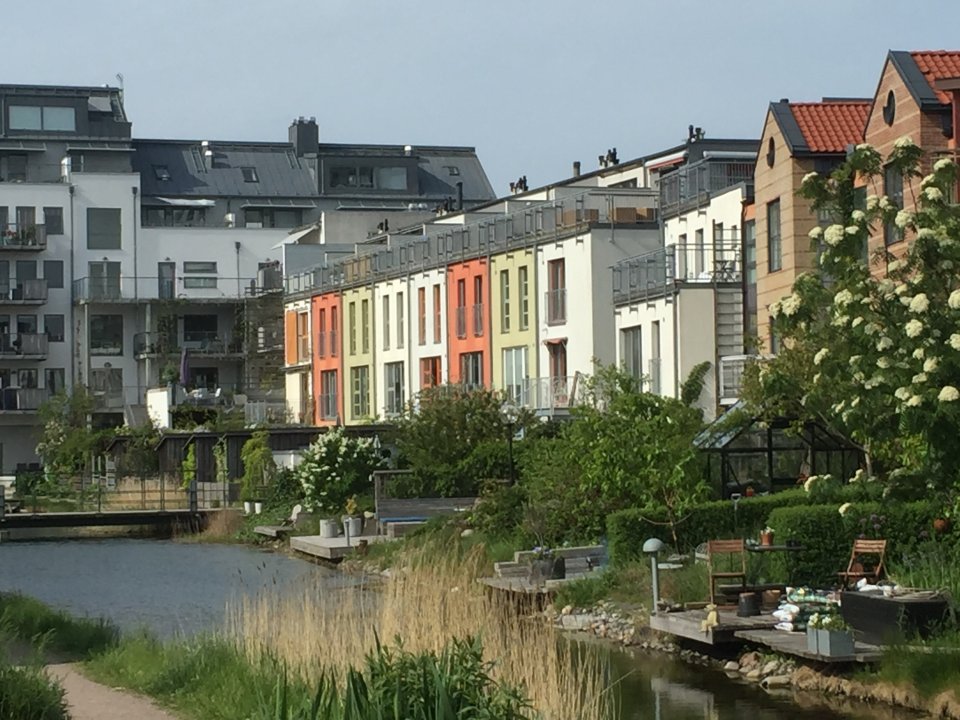 Area characterisation:
Malmö is the largest city in the Swedish county (län) of Skåne. It is the third-largest city in Sweden, and the sixth-largest city in Scandinavia, with a population of 316,588.
Malmö is one of Sweden's fastest growing metropolitan centres. The 2020 population forecast shows, among other things, that the number of Malmö residents is expected to increase by about 50,000 new residents by 2030. Malmö has an industrial background with a focus on heavy industry until the mid 1970s, followed by an economic downturn and decrease in population. Malmö's transition into a post-industrial city has been developing since the mid 1990s. In 1995, Malmö had Sweden's highest unemployment rate. However, during the last decades there has been a revival, where Malmö has established itself as a multi-cultural city with a multi-faceted economic base. One of the main contributing factors has been the economic integration with Denmark brought about by the Øresund Bridge. Almost 10 percent of the population in Malmö works in Copenhagen, Denmark. Malmö is situated on the coast and surrounded by top quality agricultural land, which has led to an expansion into the sea. This makes the city vulnerable to a rising sea level, which is further enhanced in Southern Sweden being on a bulging edge, or forebulge, of ancient ice layers. Therefore, the land is still slowly sinking from forebulge collapse, stemming from the last ice-age which appeared around 11,500 years ago. 
Objective:
The city's green and blue areas have a long history, and are even today seen as an important and integrated part of the city of Malmö, as reflected in the recent Master Plan. The ambitions are to create a close, dense, green and mixed functioning city, with densification as a driver, rather than expansion into the outside highly productive farmland. Urban green is a vital component of the future of the city and, in the master plan, is brought forward under such diverse headings as Green City, Green and Blue Environments, Biodiversity, Countryside and Agriculture, Children's Perspectives, Public Health and Safety, Climate Adaptation – Cloudburst and Stormwater. The term Ecosystem Services (ES) are frequently used within the master plan and are defined as encompassing all products and services that nature provides and that contribute towards human well-being and survival. In 1998, the city of Malmö launched the project Ekostaden Augustenborg, initiating nature-based green solutions as an answer to an environmental concern of stormwater management. Augustenborg was built during the 1950s by MKB, Malmö's public housing company, proving tenements flats close to the city centre (Figure 38). The area fell into decline from the 1970s onwards and in the 1990s, MKB took the initiative to upgrade the flats. The project 'Ekostaden' Augustenborg was a collaborative project between Malmö Stad City Administration and MKB in order to make the area more socially, ecologically and economically sustainable. A basic principle for the redevelopment was to include local residents in both co-creation and co-management of this change.
Actions:
Green and blue solutions applied in the area of the project 'Ekostaden' Augustenborg were inspired by nature and could hence be classified as Nature-Based Solutions including first and foremost local stormwater solutions through open soil drainage, local ponds and overflow areas but accompanied also by the installation of green roof tops and green walls. More recently, the project 'BiodiverCity' has been active in the development of new green roofs and green walls – including an eatable wall – in the area, too. It is documented that changes carried out have been successful in terms of the regeneration of this urban area, with a 20% decrease of tenancies turnover, and with regards to stormwater, with up to 70% of the total stormwater dealt with locally. After a severe and extreme weather event in 2014, the success of the stormwater solutions in Augustenborg was proven, compared to neighbourhood areas with conventional drainage solutions.
Following on the success of Augustenborg, Malmö launched an extensive harbour development in the Western harbour, and starting this transformation was the housing exposition Bo01 which opened in 2001. When it opened it was launched as the Sustainable City of Tomorrow, and it turned the old contaminated shipyard area into a leafy green neighborhood of housing blocks with nature-filled courtyards, pocket parks and meeting spaces with novel sustainable stormwater solutions. The area contains beds of mix native herbs and wildflowers, that together with the drainages, provides wildlife habitats. A crucial instrument in the development of the green courtyards was the introduction of the Green Space Factor (GSF). This was a city policy that demanded that every housing development needs to balance its building footprints by setting aside greenspace together with a biodiversity bonus point system for adding elements such as tall trees, birdhouses and wildlife ponds. The GSF provided an incentive for the developers to increase the quality of green space rather than focusing on the amount of area green. Instrumental for the success of Bo01 was working with landscape architects to integrate the work with the courtyards into public parks and pocket parks providing a green structure to the areas. In the further harbour development, the GSF point system was later simplified and work with landscape architects less extensive, resulting in a lower amount of green areas. Unfortunately, studies have shown that while the Bo01 was successful in establishing green spaces initially, over time green elements have been exchanged to hard surfaces.
Potential impacts/benefits:
The role of UGI for health and recreation has been demonstrated in several Malmö-based studies, with themes including promoting physical activity, green school yards, urban agriculture's role for social cohesion and developing health related indicators. Malmö has also been included as a case city in multiple research studies focusing on challenges in governance aspects related to urban green infrastructure (UGI), with a particular focus on ES provisioning, and stormwater management. In addition, Malmö's Master Plan has a dedicated section on the SDGs, and states that they should be the starting point for the city's work on sustainable development. A large part of the role identified how urban vegetation can help with the SDG 13-Climate Action, where their role for cloud-burst and stormwater management are key. The conservation of important and typical biotopes as well as rare species are proposals which provide a clear link to the SDG 15- Life on Land. Urban nature's role in providing important regulating ES that influence public health and well-being is recognized, thereby contributing to SDG 3-Good Health and Well-being. This includes vegetation's role in improving air quality, providing shade but also through the provision of cultural ES through recreational activities and opportunity for social interactions. Accessibility to green spaces is also a central goal, highlighting specific groups such as the disabled, elderly and children gaining access to green areas with an emphasis on providing equal access for all. Several UGI initiatives are linked to increasing social cohesion and sustainable communities (SDG 11-Sustainable Cities and Communities). These initiatives include processes such as citizen dialogues within planning efforts, but also community gardening and self-management of green spaces. These are mentioned as explicit examples of how UGI could contribute to social sustainability within communities. For instance, the master plan explicitly states that parks have an important role in helping people with different ethnic backgrounds to overcome barriers in the city. Malmö's master plan also clearly states that the UGI is an important component of an attractive city. This identifies one potential role that UGI could have towards SDG 8-Decent work and Economic Growth.
NBS benefits
Restoring ecosystems and their functions
Enhancing sustainable urbanisation
Transferability of the result:
The City of Malmö has led several projects to develop urban green space for climate adaptation as well as urban biodiversity and socioeconomic development. The development of the Augustenborg and western harbour areas during the last 20 years are international flagship projects, which both highlight Malmö as a forward thinking city, intending to lead and promote city development for some of the most prominent future challenges.
Lessons learned:
While both the concepts of ES and sustainable stormwater management are familiar within the city government, there are governance related challenges to their wider implementation, which includes lack of political prioritisation, lack of funding, as well as a general lack of trust in storm water management performance. Also the requirement for long-term maintenance is a common challenge.
There has not been a strategic continuation through new project areas or via new strategies integrated across the city. The latest municipal master plan has a prominent overall green focus, but is deliberately less concrete and spatially explicit as previous plans. This has not proven to always be in favour of green matters.
Several specific green space related plans have been developed, including a cloudburst plan, an urban blue-green infrastructure plan and a tree strategy. These supporting documents have not been politically adopted, leaving the focus areas without formal plans or strategies. Currently, there are no political decisions on long-term plans or strategies related to green spaces.
Contacts:
Åsa Ode Sang
Swedish University of Agricultural Sciences (SLU)
Sustainable Development Goals
11. Sustainable Cities and Communities
13. Climate Action
15. Life On Land
Key Performance Indicator: