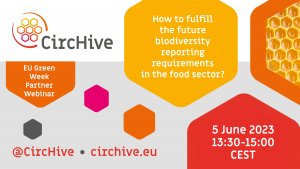 Monday, 5 June 2023 -

13:30

to

15:00 (Europe/Brussels)

(Europe/Brussels)
The loss of biodiversity is one of the biggest challenges of our time. Many ecosystems that provide us with essential resources are at risk of collapsing. At the same time, biodiversity reporting is now mandatory for the food sector.
This event by the CircHive BEEHive (Biodiversity Excellence of Enterprises) community will explain the current requirements related to biodiversity reporting and showcase practical tools to measure and manage nature issues at the farm and value chain level. You will also have the chance to learn from the experience of two companies - Barilla and Valio.
When: 05 June 2023, 13:30-15:00 CET
Where: online, GoToWebinar
What you can expect:
-       Introduction of the CircHive project
-       Reporting requirements in the food sector
-       Practical tools at the farm level
-       Company case studies from Valio and Barilla
-       Q&A and discussion