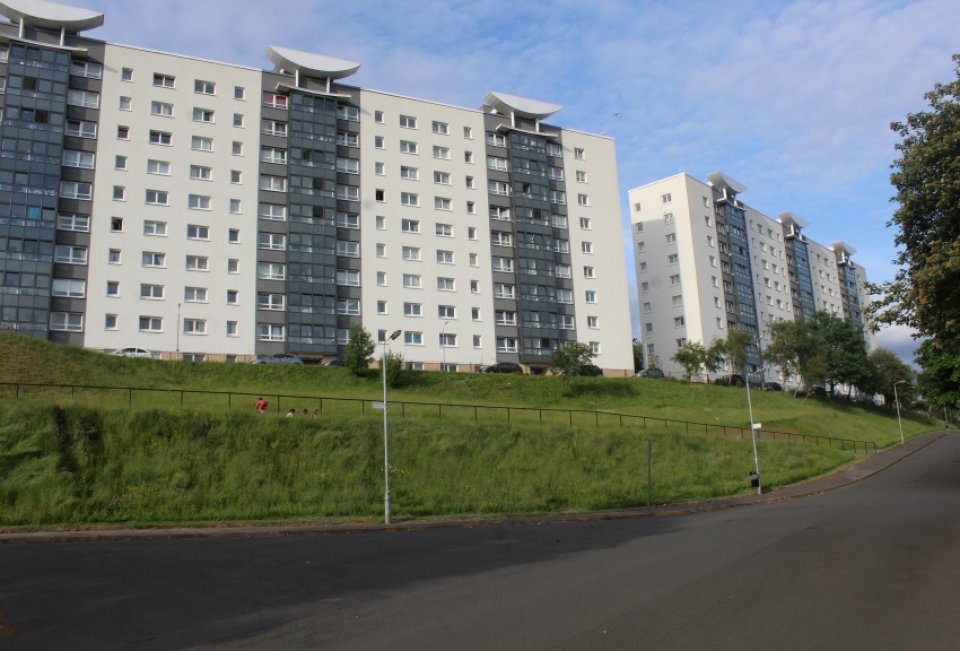 Area characterisation:
The project is based at Moss Heights, Cardonald which is a neighbourhood in the south west of Glasgow. Halfway park is located next to the three Moss Heights tower blocks and was previously a narrow, steep, underused piece of grassland.  The site is only 1.59 hectares.
Objective:
The area is poorly connected to green space and in 2013 Glasgow City Council's open space audit concluded that the site was of poor quality and limited functionality. The towers consist of mainly family flats and over 20% of the population are from an ethnic minority background. The project proposal was developed with community needs considered and 88% of locals indicated they very much wanted to see changes made to the space. There was an obvious need for a functional space which enhanced the quality of life for a community living in one of the most disadvantaged neighbourhoods in Scotland. SHA have undertaken major regeneration of social housing in the area surrounding the project and transforming the space will complement these improvements. The project received funding in March 2017 and began construction in spring 2019.
Key aims:
Enhance biodiversity in local area
Engage and provide opportunities for the community
Improve local health and well-being
Potential impacts/benefits:
COMMUNITIES
The project will benefit all residents in the immediate vicinity e.g.  those living on Moss Heights Avenue, Berryknowes Avenue, Berryknowes Road, Motrave Path and Mossview Quadrant. These areas primarily consist of multi-story and tenement buildings with lack of access to gardens or public green space. The park will be the only one in the neighbourhood, with the nearest being Bellahouston park (2 miles away), so it will benefit the even wider catchment area of Cardonald. 
The removal of the road and the introductionof the 'homezone' will reduce traffic in front of the towers, allowing children to access greenspace on their doorstep without worrying about danger from vehicles. This will also contribute to reducing air pollution in the area.  The introduction of natural play equipment and parkour area provide activities for local children. This will benefit the 354 Moss Heights residents which are under 16 years of age. 
The new pathway will make the steep slope far more accessible for all abilities, including young children, parents with pushchairs and disabled people.
SHA is committed to address wider regeneration needs and will include community benefit clauses within landscape contract and other community based programmes within the park proposal to ensure people faced with disadvantage benefit from employability opportunities. This includes > 10 training places within contract and > 50 volunteering opportunities across the project. 
FLOODING AND BIODIVERSITY
The project will see the planting of:
5442 metres squared of new shrubs, hedges and trees
400 native trees
3000 metres squared of wildflower meadow
50 new orchard trees
This will increase the biodiversity of the area and provide a green network connection.
The use of raingardens on the Moss Heights towers will reduce surface water in the area by attenuating run-off in vegetated pots. 
NBS benefits
Developing climate change adaptation; improving risk management and resilience
Reduce run-off
Greater ecological connectivity across urban regenerated sites
Improve connectivity and functionality of green and blue infrastructures
Increase Biodiversity
Increase quality and quantity of green and blue infrastructures
Changing image of the urban environment
Creation of green jobs relating to construction & maintenance of NBS
Improve air quality
Increase accessibility to green open spaces
Increase amount of green open spaces for residents
Increase communities' sense of ownership
Increase social interaction
Increase well-being
Provision of health benefits
Social inclusion
Transferability of the result:
The small size of site makes this project particularly replicable and demonstrates what can be done with steep and low amenity spaces.