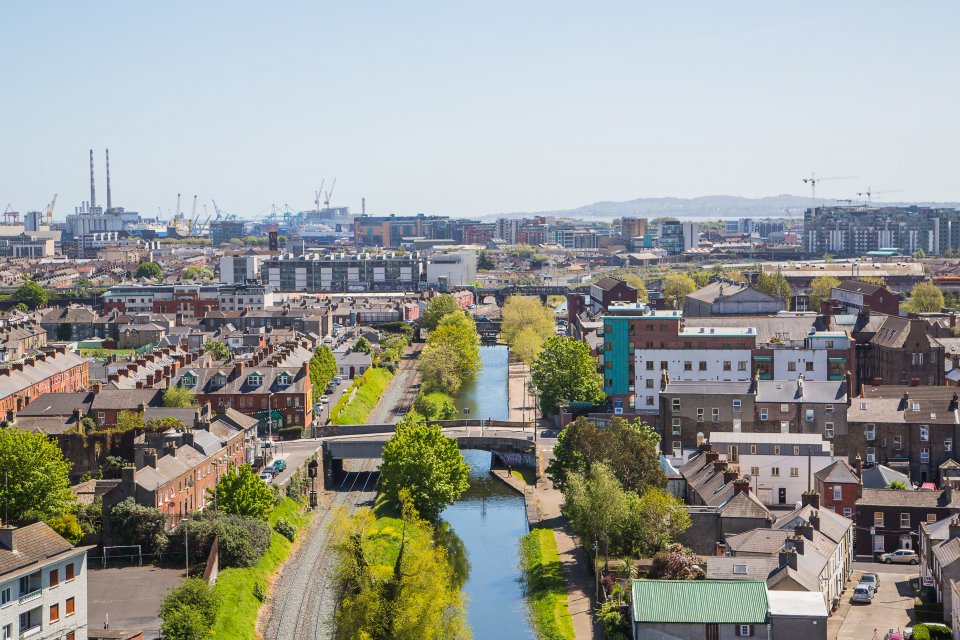 Objective:
In its 2016-2022 Development Plan the city has set out a vision for a 'Sustainable, Resilient Dublin based on economy, environment and equity' (1). The Development Plan's principles for green infrastructure include sustainable buildings which should use 'sustainable energy technologies and innovative design solutions such as living walls, roofs as well as solar panels'. NBS could help address climate change, environmental infrastructure, green infrastructure, open spaces and recreation, cultural heritage and sustainable communities and neighbourhoods (1). For example, sustainable urban drainage measures are being encouraged as part of environmental infrastructure objectives to reduce flooding risks and to adapt to climate change and make the city greener. Dublin is also committed to reducing CO2 emissions by 20 % (3).
Dublin has signed the Eurocities declaration on climate change. Biodiversity is one of the five focus sectors in its Climate Change Strategy for Dublin City 2008-2012 (3). Actions include creating a network of corridors linking Natura 2000 sites to each other, to green areas and to Dublin City conservation areas and opening up culverted streams and rivers, to allow species to adapt to climate change through migration. The strategy also aims to create new wetlands in the city, with artificial wetlands acting as water attenuation ponds, while providing a habitat for a range of organisms. Although soft engineering options should be used wherever possible on the coast, sand should not be removed from beaches and measures to protect and rehabilitate dune systems will be taken. All these measures seek to boost the natural resilience of the coastal system.
Actions:
The NBS in Table 1 are all generic actions proposed by Dublin City Council to sustainably address some of the challenges facing the city. In the Development Plan, sustainable urban drainage systems (e.g. permeable paving, swales, green roofs, rain water harvesting, detention basins, ponds and wetlands) are important storage areas for reducing surface runoff. They should therefore be integrated into new, and if possible, existing developments (6). They are also an integral part of green infrastructure and have a number of other benefits (see below).
Green infrastructure, including green roofs and walls, is not only part of sustainable urban drainage systems. It is also important ways of improving air and ambient quality. The Development Plan Appendix (6) states that green roofs should be provided as standard in apartment schemes, industrial parks, utility buildings and larger commercial developments. It also advocates integrating green walls into larger development schemes.
Lessons learned:
The Reusing Dublin mapping tool resulted in a 53 % increase in the number of officially known underused/vacant spaces and buildings. This shows how useful the tool is in helping to find long-term solutions for identifying such spaces for urban regeneration plans and meeting housing needs. It also shows how local people can help provide such information.
Financing:
Under the Development Plan, developers of residential areas who cannot fulfil the 10 % green space requirement must make a financial contribution to providing a new park in the area in question, improving an existing park and/or enhancing amenities in line with the city's Parks Strategy (1).
Challenges:
With a population of 1 325 700 inhabitants in the greater city (EUROSTAT, 2016), Dublin faces challenges related to the economy and lack of housing. Conscious of the need to find ways of dealing with these issues while at the same time addressing climate change, Dublin City Council is looking for new, collaborative ways of regenerating the city (2).
Multiple Benefits:
Dublin City Council is increasingly aware that green infrastructure is vital for the functioning of the city because it provides a wide range of ecosystem services such as air and water regulation, as well as climate adaptation. The council also recognises that open green/blue spaces benefit the city and its communities in multiple social, economic and environmental ways and help it achieve its sustainability objectives, as well as providing an attractive place to live, work and visit (1).
These three projects have multiple benefits, given the many advantages of sustainable urban drainage systems, including removing pollutants from urban run-off at source, controlling surface water run-off from developments and ensuring flood risk does not increase further downstream (1,6). Such systems make it possible to use green spaces for the purposes of water management. In this way, green spaces can serve recreational purposes and enhance biodiversity. Green walls also benefit the environment, absorbing and filtering stormwater, reducing pollution, mitigating any potential heat island effect and decreasing carbon emissions (6).
Integration:
Dublin City Council is promoting a green infrastructure strategy based on the Council's sustainability principles (1), both for biodiversity and ecosystem services, such as water and air regulation, and for the mental and physical health of Dubliners.
Stakeholder Participation/Participatory Planning and Governance:
The Development Plan recognises that 'fiscal restraint has led to a new energy for civic participation, social entrepreneurship, volunteerism and collaboration across the community, cultural, corporate and institutional sectors. These new ways of working can result in innovative and vibrant solutions, whilst strengthening local communities' (1, p. 189). The Local Economic and Community Plan seeks to promote and support local economic and community development in collaboration with the communities concerned (1).
The FP7 project TURAS project has sought to bring urban communities and businesses together with local authorities and academic researchers to innovate and collaborate on developing practical ways of making European cities sustainable and resilient. The project focused on co-developing projects and knowledge around urban/industrial regeneration, land use planning and creative design in partnership with the relevant authorities and citizens, often by testing ways of co-developing nature-based solutions. It involved working closely with Dublin City Council, as well as various local communities, running a number of events using different approaches to get people involved, such as art or pop-up events. For example, on the Cork Street Park Demonstration Site, the project sought to facilitate and support an existing community-driven action to create a new public park in Dublin 8, an area that is short of green space, as well as seeking to learn transferable lessons from the process. TURAS has thus helped to develop a deeper understanding of the concepts of physical and social urban resilience; its outcomes can also help inform the development of processes and practices that lead to systemic responses.
In Pelletstown, a partially constructed residential area where some of the land remained undeveloped due to the financial situation, various activities have been organised to stimulate community involvement in planning what to do with existing open spaces in the area (http://www.turas-cities.org/editorial_article/6). These have included informal awareness-raising events introducing local people, including children, to the activity of bee keeping and to local plants and insects, followed by various artistic activities (http://www.turas-cities.org/blog/17). This has helped get the local community involved in developing Pelletstown. The remaining land is now being developed to include some open green space (Collier, personal communication).
Other TURAS activities with local communities have involved looking into how underused or vacant land. For example, the project helped the Bridgefoot Park Community Campaign raise awareness of the Bridgefoot Street site's potential as a neighbourhood park for the Liberties area. Given the lack of quality green space in the area (0.7 m2/person) compared to the rest of the city (49 m2/person), it has been earmarked as a park in the Liberties Environmental Improvements Plan. With the support of Dublin City Council, TURAS organised a pop-up event to find out what the area's residents would like in terms of green space and recreational facilities. Their wish list included a community park, a forest park, a water feature, removing asphalt, putting in railings, planting trees and flowers, putting in benches, a playground and a football pitch.
Potential for new economic opportunities and green jobs in the EU and in global markets:
The city's green infrastructure not only benefits residents. It also brings tourism and financial investment to the city. Dublin City Council has also developed facilities in parks to increase their capacity to host international and national cultural, historical and sporting events and competitions (1). TURAS also provided economic opportunities, for example, a new start up, Space Engagers, was a spin-off arising from the success of the Reusing Dublin crowd sourced web mapping platform.
Success and Limiting Factors:
The overall success of green infrastructure comes from the commitment to maintaining it, despite changes in economic circumstances (1). Legislation and planning can also contribute to success. For example, the City Development Plan 2011-2017 introduced various policies to support 'appropriate temporary uses' of 'vacant, under-utilised or derelict sites in the city'. Resulting initiatives included the 'Vacant Space Scheme', under which Dublin City Council helps the creative sector access work space on a temporary basis, and a multitude of temporary pocket parks, community gardens and allotments. This helped create a positive environment for TURAS and many of their projects owed their success to having a local champion (Collier personal communication). Timing is crucial, because the vacant land tax, proposed in 2013, enacted in the Urban Regeneration and Housing Act 2015 and coming into force in 2017, meant all planning authorities would be required to establish and maintain a vacant site register, led to great interest in the Reusing Dublin mapping tool.
Limiting factors include the need to protect the existing green infrastructure network from fragmentation and loss due to the pressures of urban development in and adjoining the network (1), as well as some institutional resistance to seeing how NBS ties in with various objectives and planning mechanisms.
Drivers:
With Dublin being a member of Eurocities, Dublin City Council also hosted an EU LIFE+ project on river restoration (3) and worked on other biodiversity research projects with the academia (3). It also participated in the EU Interreg Programme IIIB SAFER project, which addressed the risk of coastal flooding. It got involved in TURAS because the project's objectives were compatible with its Development Plan. It also felt that TURAS could help develop more sustainable planning and management policies, especially in relation to areas the economic boom rapidly changed, and how to deal with areas abandoned due to the collapse of the Irish economy. This was part of the Council's looking at the needs of emerging and growing communities and trying to think of different ways of approaching/engaging with them other than just doing so through the usual planning process (Myles Farrell video). On top of all that, it attended various TURAS events to share its experience and findings, e.g. on collaborative tools, with other cities involved in TURAS or not.
Monitoring and evaluation:
Dublin City Council monitors the city's sustainability against the Global Reporting Initiative indices (4) and the implementation of the Development Plan on the basis of SMART objectives (1). The majority of the TURAS tools/solutions used in Dublin have not been evaluated fully for their ability to contribute to urban resilience and sustainability. This is mostly due to a lack of user monitoring and tracking. All the tools have the potential to contribute, but without long-term tracking and measurement it is not possible to gauge their contribution. That said, Reusing Dublin did encourage citizen engagement, resulting in a 53 % increase in officially known or mapped underused/vacant spaces in the city, thus contributing to long-term solutions to the problem of lack of knowledge of the existence and location of vacant spaces.
Impacts of EU research and innovation projects:
Dublin City Council has learnt about different ways of engaging communities, such as the community dashboard. TURAS was also seen as contributing to more sustainable planning and management policies, and helping with ways of dealing with disused land (2).
Given the lack of housing and its aim of urban regeneration, Dublin City Council needs to know the location of vacant houses and spaces. As part of its Reusing Dublin project, TURAS developed a crowd-sourced web mapping tool for citizens to map the underused buildings and open spaces in their community. The tool also aimed to identify spaces that could be used to build green roofs and walls, generate solar energy or to maintain biodiversity. Now in the hands of the Peter McVerry Trust to ensure its continuity, it has increased knowledge of the location of such spaces and is being used to create a campaign platform to increase housing supply and availability, as well as to raise public and political awareness of the issues relating to housing and vacant land.