Event posted by

Fiona Cooper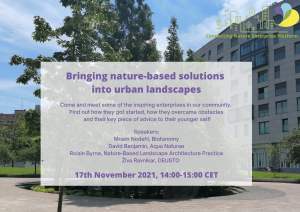 Wednesday, 17 November 2021 - 14:00 (Europe/Brussels)
Join the NbS for Urban Landscapes Community workshop and hear from inspiring enterprises working in this field!
The common theme of the NBS for Urban Landscapes community is place. Our members in different ways contribute to nature-based solutions driven urban landscapes.
In this webinar we will open up the discussion:
How can we join our knowledge and/or products to create quality space?
How are different NBS industries in this space compatible, and where are the gaps?
NBS as a term has become widely used but products and their involvement in actual solutions in cities are still underrepresented, how can we change this?
Join us at our next event on 17th November @ 14:00 CET for a get to know you session where 2 of our members:
Moein Nodehi, Biotonomy 
David Benjamin, Aqua Naturae
will present their work and share their experiences of designing and creating nature-based solutions in urban spaces.
Let's spark a discussion on common challenges and how we as a community might be drivers for change.
If you haven't already, why not respond to our challenge and tell us how your products and services contribute to an improved urban landscape. 
All are welcome, bring a coffee and join us for 60 minutes of informal chat, learning, and networking.