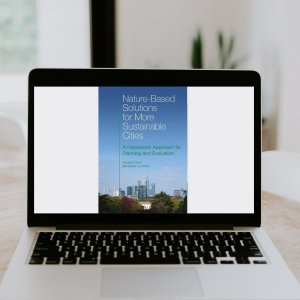 An exciting new book will be released 5 November on NBS and the urban context, titled,  Nature-Based Solutions for More Sustainable Cities: A Framework Approach for Planning and Evaluation. This work was co-written by Edoardo Croci and Benedetta Lucchitta of Bocconi University and published by Emerald Publishing Limited with additional contributions for each chapter.
Five sections take the reader through NBS in the Urban Context; Design and Planning NBS at Urban Scale; The Evaluation of NBS in Cities; 4 Policies and Instruments for the Implementation and Management of NBS in Cities; and NBS case studies.
Chapter 10- "Collaborative Governance Arrangements for Co Creation of NBS" and Chapter 25-"Collaborative Governance Arrangements for Cocreation of NBS: A Selection of Global Cases"  features contributors Bettina Wilk and Daniela Rizzi respectively. Both are senior officers for nature-based solutions and biodiversity . On the topic of the role of social actors in steering co-creation processes, Wilk says, 
"Civil society has to step out of its comfort zone – one of passive users – and take responsibility for the design, implementation, and management of NBS – including NBS outcomes. Governmental actors need to become accustomed to relinquishing control over nonlinear, unforeseeable activities and outcomes. This means sharing power, participatory decision-making, and often long-lasting negotiations to come to a common agreement."
A main takeaway from the book is that Nature-based Solutions and ecosystem services in general can provide much broader societal benefits that cannot be captured solely in the context of economics. These benefits are at the heart of the many positive aspects that Nature-based Solutions bring to the table. You'll have to read more to find out exactly how we can effectively implement these solutions in our cities and to see case studies where this has been achieved already.
Learn more here.